Everything we know about Lovecraft Country Season 2 cancellation
Will we ever return to Lovecraft Country? Here's everything to know.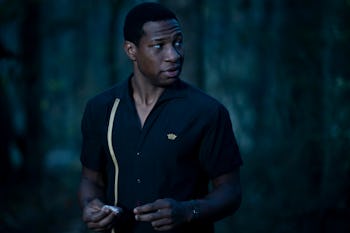 This article about Season 2 of Lovecraft Country was originally published on October 19, 2020, and updated on December 18, 2021 following the cancellation of the series. Read on for the original article, with some new changes to reflect the latest updates on this topic.
The end of Lovecraft Country Season 1 had it all. There were snarling monsters, bionic arms, tons of blood, and some shocking deaths. The sins of America's racist past were laid bare in the utterly wild finale of the big HBO hit of 2020.
But what's going to happen next?
Unfortunately, nothing! In July 2021, HBO announced that Lovecraft Country would be canceled after one season, prompting an outcry from fans. Here's everything about its cancellation and what we could have seen in Season 2.
Is Lovecraft Country renewed for Season 2?
Nope! In July 2021, HBO announced the series would not be coming back for a second season. The surprise cancellation produced an outcry from the fans, especially when the series would pick up six Emmy nominations, including Outstanding Drama Series.
Why was Lovecraft Country canceled?
The sudden cancellation of Lovecraft Country has prompted a lot of speculation from the public, especially with HBO not making any formal announcement as to why. This was not a mutual decision between the creatives and the network, as showrunner Misha Green had been working on Season 2 as recently as February.
But Green may be the reason why Lovecraft isn't returning at all. Tinderbox: HBO's Ruthless Pursuit of New Frontiers, an oral history on the network by James Andrew Miller, has a section dedicated to some behind-the-scenes drama on the show. According to Miller, Green created a "hostile" work environment that made it difficult for other writers to work on it. He elaborated in an interview promoting the book:
"Lovecraft was a beautiful show in terms of its look, its narrative and what I would also consider to be an exceptional marriage of storytelling and music. When the show got canceled, there were two predominant explanations out there. One was it had gotten too expensive. The second was there wasn't a compelling vision for the next season. It turns out neither was the real reason. I had several sources within HBO and elsewhere — people who worked on the show and people who represented people on the show — who said the environment on the show was not a healthy one. For HBO, it was a double-down on sadness — not only is it losing a show that was such an outlier in terms of what it was trying to say, but then to have a Black showrunner — and a female Black showrunner — is not something that happens every day, and people were incredibly excited about that. So, again, the word I come back to is "sadness" that it was not able to continue."
These rumors haven't been outright confirmed by anybody who worked on the show proper. Most prominently, star Courtney B. Vance expressed his confusion at such a promising show being canceled so soon. As mentioned in Miller's quote above, Lovecraft Country's budget most likely didn't help the show's situation, considering the amount of money poured into effects for the impressive visuals of Season 1.
What happened at the end of Lovecraft Country Season 1?
While predicting a story for Season 2 is difficult, we can at least guess where things will go based on the events of the Season 1 finale.
In the Season 1 finale of Lovecraft Country, Atticus (Jonathan Majors) was sacrificed by Christina (Abbey Lee), who sought to use Atticus' blood to attain immortality. In doing so, Christina also killed Ruby (Wunmi Moskau) and thought she killed Leti (Jurnee Smollett), until Leti came back thanks to another protection spell.
Our heroes finally thwart Christina's plans when Ji-Ah (Jamie Chung) uses her Kumiho powers to hold both Atticus and Christina together and undo the ritual. In the end, magic is taken away from all white people. The episode ends with Leti, Ji-Ah, Hippolyta (Aunjanue Ellis), and Montrose (Michael K. Williams) carry Atticus' body. Atticus had one final message to Montrose, which was asking Montrose to take care of his unborn child.
But that's not the end of Lovecraft Country just yet. In the season's final moments, Christina, trapped beneath rubble, is killed by Dee, who unveils a bionic, Cable-esque left arm. Dee has also taken control of the Shoggoth that saved Atticus and Leti just a few episodes prior. The final image of Lovecraft Country is a hooded Dee looking up at the Shoggoth as it roars in the moonlight.
"We talked a lot in the room about this idea of walking towards this hero's journey story, about destiny: You're the one, and you're meant to do something," Green told Rolling Stone about the season finale. "It was very interesting to me and the room, this idea of Atticus knowing that he has to die, and making a choice for the greater good, and that was a sacrifice that needed to be made. We just talked about what that sacrifice might be for, and that reversing this power structure in the world, of magic, was very enticing for us."
When asked if Green had any doubts about killing off her series' lead in the first season, she simply said, "Nope. None."
What would have been the plot of Lovecraft Country Season 2?
After the cancellation of Lovecraft Country, Misha Green took to social media. She began to post pieces of the series bible she had been working on as recently as February 2021. Season 2 would be subtitled Lovecraft Country: Supremacy. Green tweeted out a made-up map of the United States divided into four areas: Tribal Nations of the West (which covered from California and as far east as Michigan), Whitelands (a belt that ran from the top half of Texas through the bottom half of Pennsylvania and New Jersey), New Negro Republic (the bottom half of Texas all the way to the Atlantic coast), and Jefferson Commonwealth (the northeast, down to the top half of Pennsylvania and New Jersey).
Dubbed the "Sovereign States of America," this would be the layout of the country we know as the United States for Season 2. Additionally, Green had been debating going in other creative directions for Lovecraft Country, including veering away from the significant horror slant that the first season was based in.
Lovecraft Country is currently streaming on HBO Max.
This article was originally published on