Letitia Wright Has a Wild Pitch for Black Panther 3
Princess Shuri takes on a whole new role in the Marvel comics.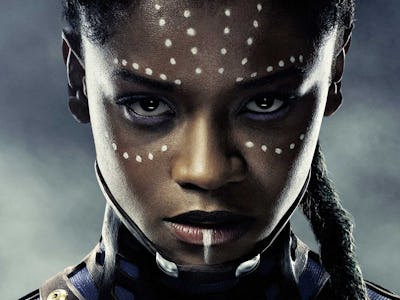 It's been less than a year since Letitia Wright took over the Black Panther's mantle in Wakanda Forever, but fans are already hungry for a follow-up. Wright has been fielding questions about Black Panther 3 ever since, and is understandably coy when she sits down with Inverse to discuss her upcoming film Surrounded.
Wright has been "on a break" since the release of Wakanda Forever, and for good reason. The sequel was a massive undertaking, so taking time to decompress is certainly warranted. "It was a big journey," Wright tells Inverse. As a result, there's been no movement on a third Black Panther film, but the actor is "excited" to return to Wakanda when the time comes.
In the Marvel Cinematic Universe, Wright's Shuri is now the new Black Panther, a development that mirrors her arc in the comics. "She took the mantle at a time where people really doubted her," Wright says. But her quest to become the protector of Wakanda is just the beginning of her comic book journey, something Wright knows well.
"She actually takes on a new form in the future," Wright says. "She really never dies, which is really interesting. She has these amazing crazy superpowers, and she's an encyclopedia of information."
Wright is referring to Shuri's arc in Ta-Nehisi Coates' Black Panther run, A Nation Under Our Feet. Coates was tapped to continue the comics after the events of Secret Wars, which saw Shuri sacrifice herself in a battle with Namor and the Cabal, a team of supervillains. Shuri is later preserved in a stasis called "living death," and as T'Challa and the mutant Manifold work to bring her back to the land of the living, her soul is transported elsewhere.
Shuri transcends to the Djalia, the Plane of Wakandan Memory. In the Djalia, storyteller spirits called griots preserve the nation's collective history. Shuri is taught by a griot that takes the form of her mother Ramonda, while T'Challa and Manifold eventually manage to restore Shuri's soul to her body. When she returns to the earthly plane, she's imbued with all-new powers and an encyclopedic memory.
"She's Griot times a thousand," Wright says, referencing Shuri's artificial intelligence in Wakanda Forever. In the comics, Shuri becomes a guide to T'Challa, and later serves on the Wakandan council.
The Black Panther comics get pretty zany, and it would be exciting to see how this arc could translate to the MCU. Coates' If Marvel did adapt it for Black Panther 3, it could be a great way to bring back Angela Bassett's Ramonda, and possibly even prime T'Challa's son, Toussaint (Divine Love Konadu-Sun), for the Black Panther mantle. Wright, at least, is on board.