The Last of Us Cinematographer Reveals How They Filmed the Darkest Scene Yet
Ksenia Sereda made "Left Behind" equally wondrous and creepy through careful technical work.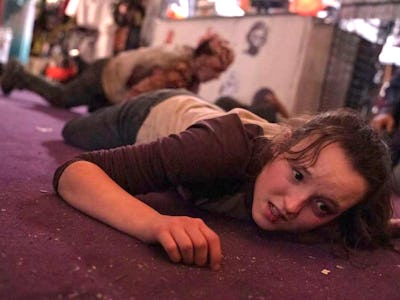 If you've watched the most recent episode of HBO's The Last of Us, you know that happiness and dread can coexist in the same scene — and sometimes even in the same moment. (And if you haven't watched the latest episode, stop reading now because there are spoilers ahead.)
In The Last of Us Episode 7, titled "Left Behind," a flashback brings us to Ellie's time spent at a military school controlled by the post-apocalyptic fascist organization known as FEDRA. Specifically, we see the events of one night when her friend Riley shows up after running away to join the revolutionary Fireflies and takes Ellie on an adventure to an abandoned mall where they ride the carousel and play Mortal Kombat II in an old arcade.
But throughout their joyful adventure, it's impossible to ignore the lingering sensation that something (probably a zombie) is about to ruin their night. How does Last of Us pull that off? For cinematographer Ksenia Sereda, who worked on Episode 7 (as well as Episodes 1 and 2), the ability to make an audience feel happy and scared all at the same time comes down to one simple factor.
"So many things were built practically," Sereda tells Inverse. "You can light the things you can see because everything is in real textures and real colors."
What Sereda means is that because HBO actually built the sets needed to create an abandoned post-apocalypse mall (rather than rely on CGI), she was able to film every nook and cranny of the location. (Like that "Back in 5 Minutes" sign in front of one abandoned store.) Bringing the mall to life made both the high of watching Ellie have a fun night out and the dread of a possible zombie attack feel all the more real.
But while the wonders of the mall could be shown through bright colors and neon lighting, that was only half the episode. In the final climax, Ellie and Riley's adventure takes them to a darkened Halloween store where two monumental events happen in quick succession: Ellie and Riley kiss, then find themselves facing an Infected, an encounter that leaves them both bitten.
It's another cinematographic dilemma: how do you capture authentic romantic tones and then shift to a fight for survival? For Sereda, it came down to the frantic camera work that signals the episode's big tonal shift.
"We worked these long shots, staying close to the characters to create this feeling of fighting for your life, which was choreographed by the stunt team," she says. "We were given the possibility to work longer shots, transferring from one character to another character, from the handheld look to the camera being free."
Ultimately, the entire episode comes together to deliver something unique in an already impressive show. And Sereda's final words on the matter may very well be a warning for anyone still wondering how the entire story will end.
"It was very important for us to build this feeling because we know it's going to be very heartbreaking in the end."
The Last of Us is streaming on HBO Max.