Star Wars' Latest Cancelled Movie Reveals the Franchise's Worst Habit
A dozen movies have cried out and been silenced.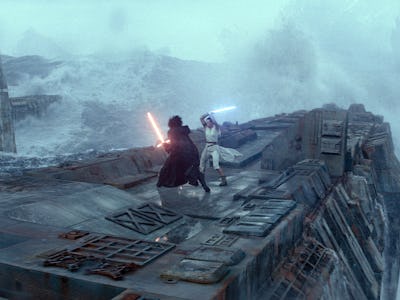 Lucasfilm
Star Wars tends to bite off more than it can chew. Just look at how two entire future trilogies were announced: one by Game of Thrones' David Benioff and D.B. Weiss that fell through in 2019, and another by Rian Johnson that's been in development for five years with little to show for it. One-off Star Wars movies aren't doing much better, as Patty Jenkins' highly anticipated Rogue Squadron was put on the back burner, and Taika Waititi joked about how his Star Wars movie couldn't get off the ground.
Now, another Star Wars movie is officially dead, and its demise is symptomatic of the franchise's biggest problem.
In September 2019, it was announced that Marvel Studios President Kevin Feige would be producing a Star Wars movie. Disney Studios co-chairman Alan Horn said the movie "made sense" considering Feige's fandom and Lucasfilm beginning a new era of Star Wars storytelling.
There were some inklings of movement, as Marvel's go-to directors Joe and Anthony Russo revealed they were in early talks to helm the film, and Loki Season 1 and Doctor Strange in the Multiverse of Madness screenwriter Michael Waldron was tapped to work on the script. Otherwise, however, the project appeared to flounder before we'd even learned what it was supposed to be about.
Now, at the recent premiere of The Marvels, Feige spoke to Entertainment Tonight about all the irons he has in the fire, from the Harry Styles cameo in Eternals to the possibility of bringing back fallen Avengers. When asked if his Star Wars movie was still happening, his answer was simple: "No."
Feige is a busy man, but this is indicative of a larger problem Star Wars is facing. Lucasfilm announced projects before they were ready to drum up enthusiasm. Then, when things fizzled — a perfectly normal outcome in Hollywood — it becomes a big disappointment to fans. In an ideal world, we wouldn't have even heard about this hypothetical movie until it had a writer, director, and maybe even a few stars committed to it.
Despite the slew of failed projects, there are still three movies on the Star Wars slate that look like they'll actually make it to the finish line. Maybe they'll build enough hype to keep the powers that be from jumping ahead and once again announcing reams of projects that only end in disappointment.