New Book Reveals the Moment That Doomed Modern Star Wars
Cancel TV shows? In Disney's moment of triumph?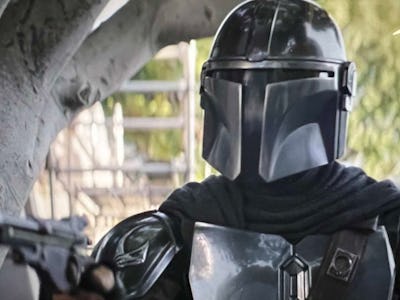 Lucasfilm
From the episodic adventures of The Mandalorian to Ahsoka's extragalactic saga, television has become a cornerstone of Star Wars. But originally, we were supposed to see far more. Instead, canceled projects have become a bit of a dark running gag, with several stories that sounded exciting now stuck on the shelf indefinitely.
It's common for projects to not work out, and fans wouldn't be so disappointed about mothballed Star Wars projects were it not for one fateful day in Disney history: December 10, 2020. Disney's Investor Day showed off all the projects Disney had in development, but set expectations way, way too high.
In Joanna Robinson's new book MCU: The Reign of Marvel Studios, it's revealed that Marvel Studios President Kevin Feige and Lucasfilm President Kathleen Kennedy were pressured into announcing projects before they were ready, leading to ideas that would've otherwise just fizzled without the public's knowledge getting shoved into the spotlight.
Of all the Lucasfilm projects announced on Investor Day, only a handful actually happened as described:
The Mandalorian Season 3 — Despite Season 2 then being in progress, the panel teased a Season 3 release on Christmas Day 2021. That window was taken by The Book of Boba Fett, and The Mandalorian Season 3 wouldn't be released until Spring 2023.
Andor — One of Star Wars' most well-thought-out shows, Andor went into a two-season, 24-episode production run, and hit its 2022 Season 1 release window to huge acclaim.
Rangers of the New Republic — Announced as an expansion of the Mandoverse, this Cara Dune-centered spinoff was teased in The Mandalorian Season 2 but was shelved after Gina Carano got herself fired for spewing hate speech.
Ahsoka — Ahsoka was given no release date, and arrived in August 2023.
The Bad Batch — The animated Star Wars spinoff made it to Disney+ in 2021 as announced, and its third and final season is now in production.
Obi-Wan Kenobi — After one of the most famously beleaguered productions in Star Wars history, Obi-Wan Kenobi and Hayden Christensen's return were announced.
Star Wars Visions — The animated anthology now has two seasons under its belt, so this one went as planned.
Lando — Despite being announced in 2020, there's still no sign of Lando entering production. It's since shifted from a series to a film, and Stephen and Donald Glover have taken over production from Dear White People's Justin Simien.
A Droid Story — This animated film was supposed to follow R2-D2 and C-3PO on a big adventure, but there hasn't been an update since 2021.
Rogue Squadron — Despite a flashy intro video featuring director Patty Jenkins in a flight suit, her big Star Wars debut was soon backburnered.
The Acolyte — Three years after this prequel series was announced, production has wrapped, but there's no release date beyond a 2024 window.
The amount of shows Star Wars did manage to churn out is still impressive, even if their quality has varied wildly. But reality pales compared to Disney's dream, which included everything from animated adventures to big-budget movies.
Unfortunately, it was a massive overpromise. Fan expectations were set sky-high, and Lucasfilm simply couldn't deliver. Had executives listened to Feige and Kennedy's concerns, attitudes towards the franchise might be completely different today. Instead, we're left to wonder what could have been.
MCU: The Reign of Marvel Studios is now available in bookstores.