Jordan Peele's Next Movie is Up Against Avatar 3 — Can He Make History Again?
If anyone can take down the King, Peele can.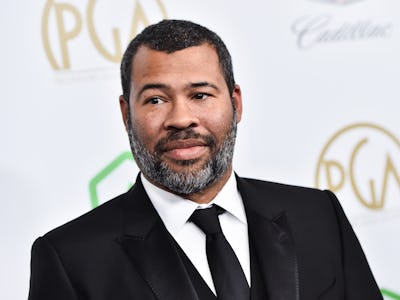 Variety/Penske Media/Getty Images
Peele-heads, rejoice! Though it hasn't been very long since director Jordan Peele's latest film, Nope, premiered, the auteur is already gearing up for his next feature. The Oscar winner will once again team up with Universal Pictures, who produced Nope, Us, and Get Out respectively. Plot details and cast are unsurprisingly under wraps, but the new film does already have a release date. Per Variety, Peele's next project is slated for a December 2024 release, which will pit Peele against the King of the Box Office, James Cameron.
Peele's yet-untitled fourth film premieres on Christmas Day, just five days after Avatar 3 is set to release in theaters on December 20. It shares a release date with Sonic the Hedgehog 3, so that marks two huge franchises that Peele will be going up against. It's quite the risk for a film that likely won't be connected to any existing intellectual property — but Universal have already put quite a bit of trust in Peele already, and after a stream of critical acclaim and box office success, said trust is certainly warranted.
Peele represents one of the few directors whose projects have consistently hit box office milestones. Each of the three films he's directed have surpassed $100 million at the box office. Of course, that's but a fraction of the Avatar films' average gross: The Way of Water scooped up an inevitable $2 billion in its global theatrical run, as did its predecessor. That said, Nope still made history as one of the few original films to make $100 million in a global pandemic. Things haven't been great for films hoping for a big theatrical push these past few years. Unless the film in question is part of a larger IP, like Marvel's Cinematic Universe or a fledgling franchise like Sonic, it's been very difficult just to break even.
Of course, there will always be a few outliers: Everything Everywhere All At Once has surpassed expectations just about, well … everywhere, including the box office. The Best Picture winner also grossed over $100 million worldwide, as did Baz Luhrmann's Elvis and the Sandra Bullock/Channing Tatum starrer The Lost City. Still, that's but a handful of films out of the hundreds that were released in 2022, so Peele deserves at least a bit of credit.
It may be true that movie stars don't get butts into seats anymore, but directors like Jordan Peele certainly do. His projects carry the kind of mystique and rabid fascination that Marvel's tried to harness — with varying results — for years. In a lot of ways, the roll-out is almost more exciting than the experience of watching something like Us or Nope. Fan-fueled speculation is a part of the promo at this point; even after Peele's projects are released to the world, audiences keep coming back to catch the references they missed. He's very much a post-postmodern Hitchcock — but after the success of Nope, he's practically entered his blockbuster era.
Peele has been making a slow and steady push into more mainstream, crowd-pleasing flicks with each project. Get Out was his introduction as a director; a guarantee that he could tell a big story (and garner bigger acclaim) on a tiny budget. Us felt even bigger, and not only because its $20 million budget was four times the size of Get Out's. Not everyone was on board with the vision in his sophomore feature — but Peele was still drawing a major crowd. Nope, like the Avatar films, was defined by its spectacle, so there's no reason why Peele's fourth film can't go toe to toe with one of the most epic franchises of them all. Obviously, they're not going to be racking in the same amount at the box office, but it'll be interesting to see whether Peele can make history again. Universal certainly thinks something is possible.