James Cameron is confident he can complete his Avatar "saga"
The strong performance of The Way of Water could let James Cameron tell the complete story of the Na'vi.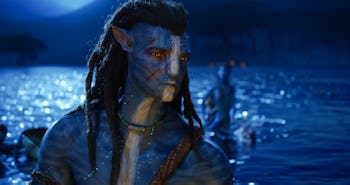 The Na'vi say, "I see you," and you'll see more of the Na'vi after Avatar: The Way of Water.
In a recent Who's Talking to Chris Wallace interview, writer and director James Cameron spoke optimistically about the future of the Avatar franchise, saying things are "going to be okay" after The Way of Water's strong $1.7 billion (and climbing) box office gross.
Cameron said, "It looks like just with the momentum that the film has now that we'll easily pass our break even in the next few days, so it looks like I can't wiggle out of this, I'm gonna have to do these other sequels." He added that he'll have "a discussion soon" with Disney higher-ups about what comes after Avatar 3, which is already filmed and in post-production.
While it took a long time to get cameras rolling again after the first Avatar, audiences won't have to wait as long for Avatar 3. The movie is scheduled for December 20, 2024, and should Avatar 3 perform as well as its predecessors, that should lock in a fourth and fifth movie, which are already scripted and even partially filmed. (Cameron opted to shoot key scenes ahead of time to ensure the youthful actors don't visibly age between sequels.)
"We've begun a franchise at this point," Cameron said. "We've begun a saga that can now play out over multiple films." Going by the director's casual guesstimating — "I know what I'm going to be doing the next six or seven years," Cameron said — we'll be sitting down for Avatar 5 right in time to ring in 2030.
The Way of Water was an expensive movie to make even by today's standards of super-inflated budgets. At a time when superheroes still command the largest cultural cache and the industry was still recovering from the upheaval of a worldwide health crisis, Cameron half-jokingly, half-seriously told GQ in November 2021 the film was "the worst business case in movie history."
"You have to be the third or fourth highest-grossing film in history [to make a profit]," he said. The movie is almost there; as of writing, The Way of Water is the seventh highest-grossing movie of all time, just behind Spider-Man: No Way Home and above Jurassic World.
The original Avatar is still the highest-grossing film ever. When it opened in 2009, it broke records and combined two different eras of commercial Hollywood: The auteur-driven blockbuster of the '80s and '90s, and the spectacle-centric, cutting-edge extravaganza of the new millennium. It's in the saga's DNA to be a juggernaut, but even if The Way of Water never surpasses its predecessor, there's clearly still enough in the tank for Cameron and his producers to make a third Avatar... and maybe by then they'll find the unobtanium deposits to fund the fourth and fifth.
Avatar: The Way of Water is now playing in theaters.