"A bad dude." How Jim Moss Became the Scariest Character in Barry Season 4
Inverse spoke to Robert Wisdom about coming to grips with the character, working with Bill Hader and Henry Winkler, and what to expect in Barry Season 4.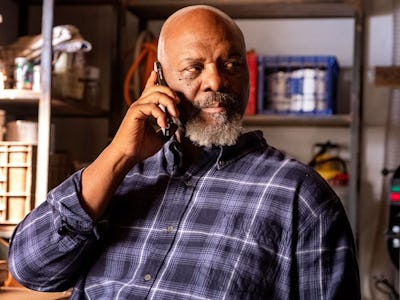 The scariest character on HBO's dark comedy Barry isn't the bumbling-but-brutal crime boss NoHo Hank (Anthony Carrigan). It's not the ruthless handler Monroe Fuches (Stephen Root). It's not even the deadly assassin Barry Berkman himself (Bill Hader). No, the scariest guy in Barry is Jim Moss (Robert Wisdom), a military veteran, top-tier planner, and master manipulator with a single-minded, ceaseless focus to catch Berkman by any means necessary.
Jim is "a beating brain, Wisdom tells Inverse, adding that, ever since we met him, the character has been steadily "towards their target." (The only person as confident as Jim might be Wisdom himself. "The only cats that I might have competed with are Sam Jackson and Morgan Freeman," he says, "but they had to be strong players to make me not get this job.")
Created by Bill Hader and Alec Berg, Barry stars Hader as a military veteran-turned-assassin who caught the acting bug and really, really wants to leave his old life behind. In the show's first season, he almost succeeds, until Detective Janice Moss (Paula Newsome) confronts him. Barry has no choice but to murder Janice, unwittingly attracting the attention of her father, Jim. In Season 3, Jim Moss managed to outsmart both Barry and Fuches. Can he do it again in Season 4?
Ahead of the premiere, Inverse spoke to Robert Wisdom about coming to grips with the character, working with Barry stars Bill Hader and Henry Winkler, and what fans should keep in mind as the show's fourth and final season begins.
Getting to know Jim Moss
Understanding his character came down to one key plot detail: Jim Moss is a Vietnam vet who got captured by the enemy — until he got into the enemy's head and managed to convince his interrogator to shoot themselves.
"The more I puzzled over that, I said, 'This cat is bad,'" Wisdom recalls. "Whoever can do that while your hands are tied up, and you just do that by getting [to a] cat through the language barrier, is a bad dude."
That was all the actor needed to connect with the part and make it his own.
"I knew this was going to be my role," he says. "I just knew I could bring it."
Jim Moss vs. Henry Winkler
One of Barry Season 3's most memorable moments was also the scene that got Wisdom the gig: his interrogation of Gene Cousineau (Barry's acting teacher, played by Henry Winkler, who turns on him in Season 3).
"I was hitting him with it and he was giving me back these flowing emotions," Wisdom says.
When they hit the right take, everyone knew.
"Maybe it was the fourth take, when the tear came out his eye and I didn't get distracted, I just went in deeper," the actor says. "When Bill [Hader] said 'Cut!' we knew we had it."
Learning from Bill Hader
Speaking of Hader, the show's co-creator, co-writer, and star (who also directed all eight episodes of Barry Season 4) worked with Wisdom directly to help hone the character of Jim Moss.
"He got me to places that I might have had a hard time getting to myself," Wisdom says. "He knew what he needed from me."
Working with Hader, whose unique and twisted vision encompasses all this Barry, was a special experience.
"I've got the utmost respect for Bill, I do," Wisdom says, "I mean, the cat wrote, directed, and acted in everything. To cover all those bases, and to do it without ego, screaming, and all that stuff. Man, this cat is just even keeled."
What to expect in Barry Season 4
As for what we can expect from Barry Season 4, Robert Wisdom puts it bluntly: "This is one of the great tour de force seasons of TV."
To get more specific, the actor teases a few reasons we may want to bet on Jim Moss. For one thing, Jim has "superior skills, but also a superior mind."
Moss' total focus on getting revenge on Barry makes him a formidable threat. And his military experience makes him even scarier. In other words, Barry Berkman and Monroe Fuches should be very concerned.
Or, as Robert Wisdom puts it: "Sooner or later, your Achilles heel shows up."
Barry airs Sunday nights on HBO and HBO Max.