Jenna Ortega May Play Another Iconic Goth Girl in Beetlejuice 2
From Scream to Wednesday to X, the actress is collecting spooky projects like Infinity Stones.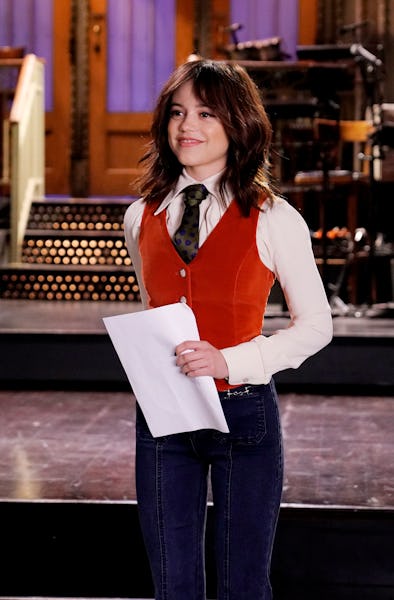 NBC/NBCUniversal/Getty Images
Jenna Ortega has gone from Netflix Original child actor to alt-girl icon in only two years. Bursting on the scene with Ti West's X, she quickly cemented herself as a star. Then Wednesday was released, and the goth world was obsessed. TikToks were trending, the series stuck at #1 on Netflix for weeks, and Ortega was Wednesday Addams before all else.
Now she's featuring in the newly-released Scream VI, and she's in New York for Saturday Night Live. If that wasn't enough, she may be finalizing a deal to bring another Tim Burton masterpiece to the Zoomers: Beetlejuice.
According to The Hollywood Reporter, Ortega is circling the lead role in Beetlejuice 2, which is expected to be directed by Tim Burton. Michael Keaton, the original Beetlejuice, is also attached to appear.
Could Beetlejuice 2 follow in Wednesday's moody footsteps and offer a more modern take on the character? Winona Ryder's Lydia Deetz is an iconic goth girl, and there's nothing more suited to Ortega's acting style. But sources say the sequel will instead use the more literal definition of "next generation," with Ortega playing Lydia Deetz's daughter.
This would break from Wednesday, although it still leaves the door open for an appearance by the actress who originated the role. Christina Ricci played Marilyn Thornhill on Wednesday, and Winona Ryder could presumably reprise her role as Lydia in Beetlejuice. Thanks to Stranger Things, she's already been a mom in a supernatural world.
But could Tim Burton replicate Wednesday's success with Beetlejuice 2? It would be quite a surprise if the creative duo of Tim Burton and Jenna Ortega turned out to be the key to success with Generation Z. Still, it has everything the demographic loves: a creepy older guy with weird hair like in Rick and Morty, a random lip-synch scene to a classic song already set for TikTok, and a goth teen with spiky bangs. It's a match made in heaven.
Still not convinced? Check out the scarily fervent theater kid fandom for the recent Beetlejuice: The Musical. Combine that with the Wednesday mania, and Beetlejuice 2 could top its predecessor's success.