Why The Most Ambitious New Star Wars Movie Is in the Best Possible Hands
James Mangold and Lucasfilm are a perfect match.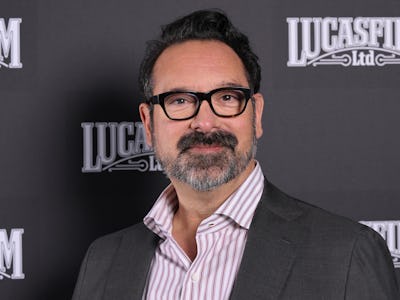 Jeff Spicer/Getty Images Entertainment/Getty Images
James Mangold is having a bit of a moment. The Logan director was given the responsibility of directing Indiana Jones and the Dial of Destiny, the fifth — and, by all reports, final — entry in the classic Lucasfilm franchise. But that's not the end of his relationship with Lucasfilm.
Mangold is also slated to direct a Star Wars movie called Dawn of the Jedi, depicting the birth of the Jedi Order. Showing the origin of the organization that forms the center of the Star Wars universe is a big undertaking. Is Mangold up for it? His previous attempt at a Star Wars project suggests the Jedi's origins are in safe hands.
Mangold told Variety he had "more than flirted" with the possibility of making a one-off Boba Fett movie, which he described as a spaghetti Western in the vein of Sergio Leone. This genre choice is interesting considering the space western vibe of The Mandalorian. There are also still echoes of the spaghetti Western in Boba Fett's eventual spotlight project, The Book of Boba Fett (like the steely-eyed duel between Cad Bane and Cobb Vanth), but the tone shifted more toward crime syndicate movie than Western.
Even though Mangold's idea never came to fruition, it's still a good omen. It's clear Mangold looks to the cinematic past for inspiration, which is a long Lucasfilm tradition. Star Wars was inspired by Westerns and samurai movies, and Indiana Jones by the pulp fiction adventure novels of the 1930s.
Mangold describes Dawn of the Jedi as "a Ten Commandments about the dawning of the Force," referencing the classic 1956 biblical epic starring Charlton Heston. "It is basically, for fans, a kind of religion," he said. "What is it to have found this power and not even understand what it is?"
Dawn of the Jedi isn't just another Star Wars movie. The franchise has half a century's worth of lore, and the Jedi's origin story is a big gap in that archive. Creating the definitive source for how the Jedi came to be is a tall order, but Mangold understands the stakes and is looking for inspiration in the same place George Lucas did: the heyday of moviemaking. Only time will tell, but it looks like the birth of the Jedi is in safe hands.