James Gunn Just Exposed Marvel's Biggest Continuity Problem
While James Gunn consulted on the Avengers films, he doesn't seem happy about how the Guardians ended up in them.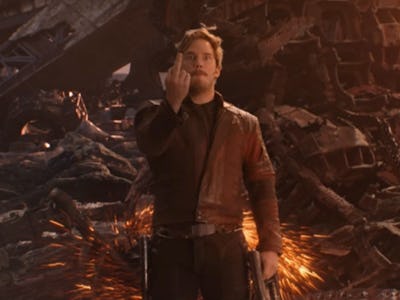 Marvel Studios
The appeal of the Marvel Cinematic Universe is that the heroes (and villains) you love show up in movies that aren't theirs. But when something like the Guardians of the Galaxy are so deeply tied to specific directors like James Gunn, there can be friction over appearances in those bigger Avengers movies.
In an interview with The Hollywood Reporter that spans James Gunn's history with Marvel Studios — including the tumultuous period in 2018 when Gunn was fired over old, offensive tweets — Gunn unleashed some brutal honesty about how the Guardians of the Galaxy appeared in Avengers: Infinity War and Avengers: Endgame, which were written by Christopher Markus and Stephen McFeely and directed by the Russo Brothers.
"They did some things that I wouldn't have wanted," Gunn told THR.
While he didn't go into specifics, Gunn did tell THR that he 1) would have allowed Star-Lord to kill Gamora like she asked him to in Infinity War, and that 2) he would not have made Star-Lord punch Thanos, leading Thanos to gain the upper hand and eventually "snap" half the universe away.
Gunn can't blame other filmmakers for everything the Guardians did in those movies, however. He himself consulted on the scripts for the Avengers movies, to make sure "nothing clashed" with what he had in mind for Vol. 3 and that he at least had a pass at what went down. Still, he "almost" regrets a joke about Drax's (Dave Bautista) supposed invisibility in Infinity War.
Gunn didn't reveal any more of his feelings about the matter, but audiences can see for themselves a profound disconnect between the Guardians in their own movies versus the Guardians in Avengers. It's certainly strange how 2017's Guardians of the Galaxy Vol. 2 told a whole story about Star-Lord, Rocket, and how their need to belong can make them the worst versions of themselves. That movie ended with the two burying the hatchet as they arrived at a place of mutual agreement. Yet Infinity War acts as if none of that happened, and the two still butt heads at the presence of Thor.
There's also Star-Lord and Gamora, who weren't a real couple in Vol. 2 even if the connection between them was strong. But by Infinity War and Endgame, we're meant to believe they were each other's true love all this time. (It's telling that Gunn considered killing Gamora in Vol. 2. One wonders how that would have set up Quill's melancholy in the upcoming Vol. 3.) But hey, fans got to see the Guardians and the Avengers team up and Black Widow crack a joke about getting "emails from a raccoon," so maybe there's not much to complain about here.
Now that James Gunn has left Marvel and now reigns supreme over its rival DC — Gunn has written and will direct the next Superman movie — the Troma alum may, in the future, reveal more about his experience helming an all-time great comic book movie trilogy while dealing with creatively trying circumstances. For now, Gunn may only be scratching the surface.
Guardians of the Galaxy Vol. 3 will open in theaters on May 5.