7 DC Movies and TV Shows We Won't See Under James Gunn
DC fans are about to see a whole new universe. But what isn't going to see the light of day?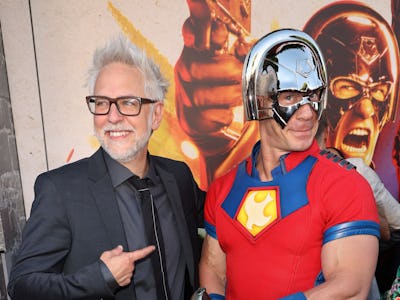 Kevin Winter/Getty Images Entertainment/Getty Images
The DC Universe is in a new era, but not everything is making it to the finish line.
On Tuesday, DC Studios co-chairs James Gunn and Peter Safran laid out the next decade-ish of new DC superhero movies, TV, and animation. While there are new Batman and Superman movies to obsess over, a handful of DC projects that were in some form of development no longer appear to be happening because of Gunn's new plans.
So what DC projects are presumably canceled, and which still have their fates up in the air? Below are the notable projects that were going to happen, but have either been axed or have dropped off the radar.
Batgirl
This one needs no elaboration, but Peter Safran did comment on Batgirl at a press event this week. Via Deadline, Safran didn't speak highly of what he'd seen of the infamous movie, saying, "There are a lot of incredibly talented people in front of and behind the camera in that film, but that was not releasable." He added the decision to cancel the movie was "bold and courageous" and the movie "would have hurt DC and those people involved."
Safran praised directors Adil El Arbi and Bilall Fallah, screenwriter Christina Hodson, and Batgirl herself. "I think it was not an easy decision, but they made the right decision by shelving it," said Safran, "Batgirl is inevitably a character we'll include in our story."
Green Lantern
At one point, TV mega-producer Greg Berlanti was at work on a Green Lantern series for HBO Max, which Berlanti touted as the "biggest DC show ever made." The project was sent back to the drawing board in October 2022, just weeks before Gunn and Safran started their stewardship of DC Studios. With a new Green Lantern series announced by Gunn, simply titled Lanterns, Berlanti's project is now scrapped.
Untitled "Black Superman" Movie
This one is apparently still in development. It just wasn't included in Gunn's announcement, when he brought up non-Chapter One projects like The Batman Part II and Joker: Folie à Deux.
But DC, as far as we know, is still developing a Superman movie that will star a Black lead. The project was first reported on by Shadow and Act in February 2021, naming author Ta-Nehisi Coates as screenwriter and J.J. Abrams as producer.
There have been no major updates since May 2021, but that doesn't mean it's dead. If the movie does move forward, it will fall under the Elseworlds banner, a new label to denote standalone movies set apart from DC's new shared universe.
Untitled Supergirl Movie
Among Gunn's announcements was Supergirl: Woman of Tomorrow, a loose adaptation of Tom King's recent Supergirl miniseries. What's interesting is that Gunn didn't name the film's star, despite a big-screen Supergirl about to debut.
In 2021, soap opera star Sasha Calle was cast as Supergirl for The Flash, which is still set to open in June. Importantly, Gunn said The Flash will reset the DC canon, giving Gunn a clean break to pursue his new universe. This may mean that Sasha Calle's Supergirl appearance is a one-and-done deal, and Woman of Tomorrow will find a new lead.
In an August 2022 story by Rolling Stone, the outlet indicated a planned spin-off starring Sasha Calle was in jeopardy, if not canceled: "Now, the prospect of other DC films being squashed looms. Insiders say Supergirl, which is in development, is not likely to move forward."
Batman: Caped Crusader
Despite boasting the collective producing power of Bruce Timm, J.J. Abrams, and Matt Reeves, a noir-inspired animated series titled Batman: Caped Crusader was axed at HBO Max in August 2022. When last reported on by Variety there were intentions to shop the series elsewhere, but little progress has been made public.
Man of Steel 2
The saga of Henry Cavill's rollercoaster exit from the DC franchise will make for a great insider book someday. Until then, Henry Cavill is 100% out of the Superman role. At a press event, Gunn said (via ScreenRant):
"All I can tell you right now, really, is Henry and Ben [Affleck] are not a part of this universe. Also important to say that Henry Cavill was not fired. Henry was just not hired to be Superman in the Superman movie. There was never a deal there for another movie."
After Cavill appeared in the post-credits of Black Adam, and seemingly back as Superman full-time, THR reported in October 2022 that a movie that would effectively be a Man of Steel sequel was on the fast track. But those prospects quickly went the way of Krypton when Cavill was later removed from the role.
Wonder Woman 3
Gunn has not yet confirmed if Gal Gadot is still the legendary Amazonian. What keeps hope flickering is that among the new projects is Paradise Lost, a political drama set for HBO Max that will take place in Wonder Woman's homeland of Themyscira. Notably, the show is being imagined as a prequel to 2017's Wonder Woman. While the show could later relinquish ties to the DCEU, its intent to connect to the movies indicates we haven't seen the last of Wonder Woman yet.