34 Years Later, James Cameron's Most Underrated Sci-Fi Movie Is Getting a Big Upgrade
Stare into The Abyss in 4K.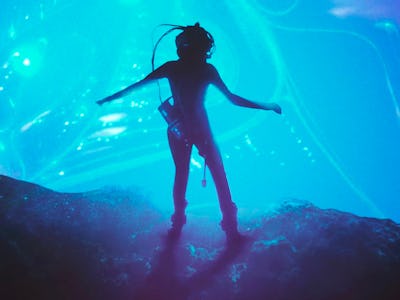 20th Century Studios
James Cameron is more relevant than ever. It's not only because of the Avatar sequels, but the films celebrating anniversaries in the 2020s. Titanic enjoyed a reappraisal when it returned to theaters for its 25th anniversary, and though we're still a year off from the 35th anniversary of The Abyss, Cameron's underrated sci-fi blockbuster is headed back to theaters as well.
The Abyss is also getting a massive upgrade, as a 4K remaster will premiere in theaters. Cameron announced the release of The Abyss: Special Edition on Twitter, teasing a restoration of the story he "actually set out to make" in 1989. There's no word yet on whether the film will finally get a Blu-Ray release, as Cameron seems pretty adamant about showcasing it in theaters first. Hopefully a physical media announcement won't be far behind, but it will be exciting to see his vision restored on the big screen.
"If you haven't seen the film before, this is the way to experience it," Cameron says. "And if you have, you'll be seeing the film I actually set out to make, with some big surprises not seen in the original released version."
The Abyss was a notoriously stressful production. The film follows a group of engineers enlisted in the recovery of a nuclear submarine, so most of the shoot took place in deep underwater tanks, requiring cast and crew alike to train as divers. Cameron's ambition was both a blessing and a curse: the pressure of filming for so long underwater, often with faulty equipment and while under constant duress from producers, was nearly too much for anyone to bear. Cameron himself nearly drowned during production, and that's just one of many nightmares lurking in the depths of The Abyss.
The film's behind-the-scenes tumult is as famous as the film itself, but The Abyss is still a stunning achievement, not least because it expanded the scope of '90s visual effects. We likely wouldn't have Terminator 2: Judgement Day without Cameron's groundbreaking work on The Abyss, and the film remains a thrilling adventure in its own right. Hopefully its 4K remaster will remind sci-fi fans of its merits.
The Abyss returns to theaters on December 6, 2023.