Surprise Invincible Season 2 trailer reveals late 2023 premiere
Season 2 is coming later this year, and Mark apparently has another huge fight in front of him.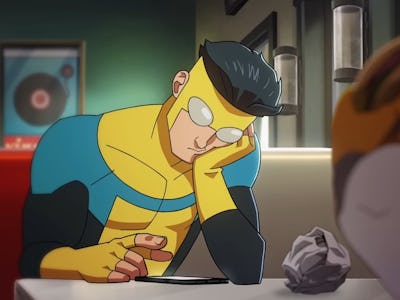 YouTube.com/Prime Video
The world needs more Invincible, and it can't come soon enough.
To commemorate the 20th anniversary of Robert Kirkman's Invincible comic book series, the Amazon adaptation chose the comic's birthday — January 22 — to announce the premiere window of Season 2. The "trailer" makes a case for just how complicated animation can be, which explains why it's taken so long for more Invincible to arrive. But in a blink-and-you-miss-it moment, it shows a script page containing an epic showdown between Mark and the Immortal (Ross Marquand).
In the Season 2 teaser, Mark/Invincible (Steven Yuen) and his ally Allen the Alien (Seth Rogen) hang out at the suburban burger diner where Mark used to work. As Mark and Allen catch up, the latter speaks on behalf of fans by saying it's "a little ridiculous how long it's been" since Invincible has taken flight.
"Hey, I've been busy," Mark says. "I've been busy writing, designing, storyboarding, voice acting, key posing, in-betweening, cleaning up, color slapping, comping the whole thing, and all that for, you know, roughly thousands of shots, so, it's kind of a lot."
You can watch the teaser below.
While Allen doesn't believe Mark, the trailer tells the audience just how freaking hard animation is. It even uses some concept art and early animatics to detail just what the animation process is like.
One moment in particular is telling. When Mark mentions he's been "writing," the trailer flashes to a page of the Invincible Season 2 script that indicates Mark having a physical showdown with the Immortal, the leader of the Guardians of the Globe.
Without spoiling too much of the comic, the Immortal and Mark do wind up as enemies. It seems Invincible is directly adapting that story to the screen, though what changes the show will make are still unknown.
But the trailer does tell us something: a release window. While a specific date wasn't announced, Mark and Allen say that Season 2 of Invincible will premiere in "late 2023." That's still vague, but given how long we've already waited, it will be here before we know it.
Invincible Season 2 will premiere on Prime Video in late 2023.