Hugh Jackman's "Double Role" in Deadpool 3 Could Mean a Wild Meta Twist
How many Hugh Jackmans are there?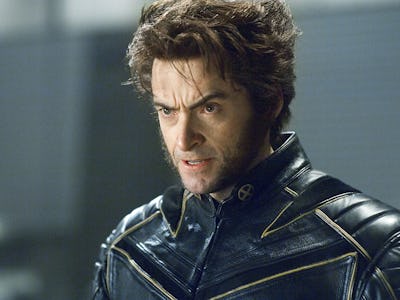 20th Century Fox/Kobal/Shutterstock
You can't have too much of a good thing. In the case of Hugh Jackman in Deadpool 3, the long-awaited Deadpool sequel may have Hugh Jackman playing more than one huge, jacked man.
In an interview with French outlet Le Parisien to promote his latest drama The Son, Jackman told the paper he is playing more than one role, in what he actually calls a "double role."
When asked if he will return for Deadpool 3 (duh), Jackman confirmed he will return as Wolverine, as well as another character. "Yes, it will even be a double role," Jackman said. (An English translation of the quote was shared by the Twitter account @DeadpoolUpdate.)
Continued Jackman, "Ryan and I have been friends for 20 years, we have a lot of fun together. We're shooting this summer. That's why I'm so happy to be in Paris right now and to be able to enjoy French gastronomy. Because very soon, I will have to go on a strict diet to remake Wolverine's body: steamed chicken and broccoli!"
Jackman didn't elaborate on his "double role," including what he's actually playing. But between the MCU's obsession with multiverse variants and Deadpool's habitual jabs at the real Hugh Jackman, all signs point to Jackman playing at least one other Wolverine. It's not hard to see how Deadpool 3 would poke fun at how absurdly complicated the Marvel multiverse has become.
Deadpool 3 is slated for release on November 8, 2024. That date is sandwiched somewhere between the end of Phase Five and the start of Phase Six. The latter is a big slate that includes both Avengers: The Kang Dynasty and Avengers: Secret Wars. It's now more certain that Deadpool 3 has a multiverse twist, with Jackman potentially appearing as different Wolverines from different X-Men timelines — or, maybe, Jackman playing both Wolverine and Hugh Jackman. Either possibility sounds like a blast, even if nothing makes sense.
The MCU could use something like Deadpool 3 right now. The franchise is debatably in a creative rough spot, with Ant-Man and the Wasp: Quantumania showing how out of gas the franchise is operating at. Compare Marvel's prominence right now to a much smaller movie: Everything Everywhere All at Once, a celebrated release that outdid Marvel at the multiverse game and is taking up all the oxygen in the room, including a possible sweep at the Oscars.
But maybe Marvel will find its mojo again. With the help of Deadpool — plus Hugh Jackmans, plural — Deadpool 3 could be the groove the MCU gets back.
Deadpool 3 will open in theaters on November 8, 2024.