House of the Dragon Season 2 Will Repeat Game of Thrones Season 8's Only Good Decision
An HBO bigshot has revealed that the wait to revisit Westeros will be a long one.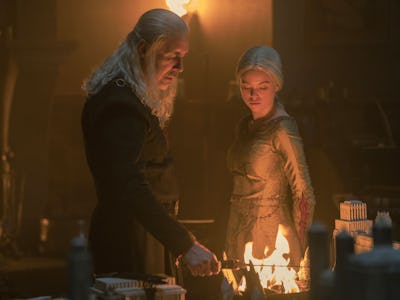 HBO
The action in Game of Thrones may have been unpredictable from season to season, but one element was almost always the same: every season except the last aired annually around spring, with the monumental final season needing another year to finish. But since the show's 2019 finale, the pace of television has slowed to a crawl. Fans waited more than two years for a new season of The Mandalorian, and almost three years for a season of Stranger Things.
We know now that even the Game of Thrones universe isn't immune to this new trend, and the wait for another check-in with the Targaryen family may be longer than fans are used to.
In conversation with Variety, HBO Content CEO Casey Bloys revealed that the plan for House of the Dragon doesn't include annual releases. According to Bloys, 2024 is more likely for Season 2 of the series, which would give it time to hone its impressive special effects to the lofty precedent Season 1 established.
That's not the only tidbit Bloys dropped during the meeting — he also revealed that it's a "good guess" that House of the Dragon Season 2 won't be eligible for the 2024 Emmys, meaning the season will release after the May 31, 2024 cutoff date.
So while we're probably still over a year away from the return of House of the Dragon, at least we have some sense of the plan. Game of Thrones stuck to its spring release window until the bitter end, so it's reasonable to assume that House of the Dragon will follow a similar pattern and release in the late summer block. So August 2024 is probably the best bet here.
Production times may have ballooned over the last decade, but hopefully this means House of the Dragon will be given the time and budget to produce a product worthy of the Game of Thrones universe, instead of just rushing another season out for the sake of it. Fans may be irate that 2023 will be devoid of any trips to Westeros, but if it means Season 2 avoids Season 1's habit of darkening scenes to hide continuity errors to the point where the action is barely visible, then the wait will be worth it.
House of the Dragon Season 1 is now streaming on HBO Max.