House of the Dragon Season 2 Doubles Down on the Best Part of Season 1
The house is getting crowded.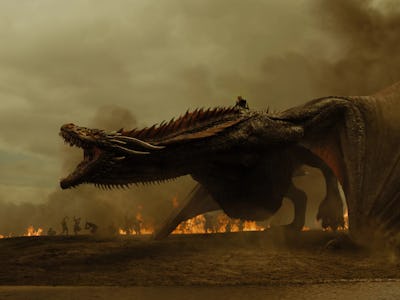 HBO
Vhagar, Dreamfyre, Caraxes, Meleys, Syrax, Seasmoke, Tyraxes, and Vermax. So far, only eight dragons in House of the Dragon, HBO's critically acclaimed blend of prestige fantasy and family drama set three centuries before Game of Thrones, have been claimed.
However, showrunner and source material author George R.R. Martin wrote about at least eight other dragons crucial to the rise (and fall) of House Targaryen that haven't yet appeared on-screen. Many are linked to integral players on Team Green (Hightower-Targaryen) or Team Black (Targaryen-Velaryon) that haven't been introduced yet either.
But fans will no longer have to speculate on whether more dragons will stalk the skies over Westeros. Ryan Condal, HOTD's co-creator, confirmed during a panel that five more dragons will set flight in Season 2.
The presence of more dragons strongly suggests that Martin's prequel text, Fire & Blood, will continue to be the show's primary source material. That's good news for both Martin's readers and Thrones fans wary of a writer's room taking too many creative liberties. Unlike Martin's Game of Thrones saga, which is still unfinished, Fire & Blood and other prequel texts have completed their story.
"Fire & Blood is an outline, and you can't present an outline on television," Martin said. "So it has to be filled in. And that's where I think Ryan [Condal] and his staff of writers have done a marvelous job."
The confirmation of five new dragons also heavily implies the casting of new characters to saddle them, and not all will be sporting platinum blonde hair. There are, much to the dismay of several Old Valyria descendants, dragonriders who aren't a direct part of their very intermingled bloodline.
These include Nettles, who rides Sheepstealer (and Daemon Targaryen); Ulf White, who sports Silverwing and a treasonous streak; and Hugh Hammer, who resembles his dragon, the colossal and intimidating Vermithor. There are also unclaimed and unintroduced dragons who are snatched up by Hightower, Velaryon, and Targaryen offspring, and then there are the wild dragons no one has ever been able to claim. So expect to see a lot more firebreathing when Season 2 arrives in Summer 2024.
House of the Dragon Season 1 is streaming on HBO Max.