Everything you need to know about Hoops Season 2 cancellation
Netflix, unfortunately, did not move forward with the adult animated series.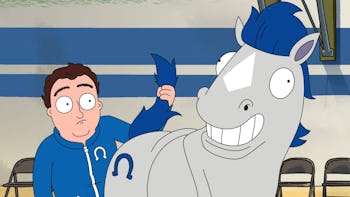 This article about Hoops was originally published on August 24, 2020 and updated on November 13, 2021 following the cancellation of the series. Read on for the original article, with some new changes to reflect the latest updates on this topic.
Netflix released its latest R-rated animated series in 2020, and while Hoops wasn't a hit with critics, it still managed to crack into the streaming service's Top 10 rankings. On paper, Hoops seemed destined for a Season 2, especially with the cliffhanger it ended on. Unfortunately, Netflix decided not to renew the series. Here's everything to know.
Has Netflix renewed Hoops for Season 2?
Unfortunately not. In December 2020, several months after Season 1 premiered, Variety revealed that Netflix would not move forward with the series.
Why did Netflix cancel Hoops?
According to Variety, an undisclosed source close to Netflix says Hoops was canceled due to a low ratio of viewership versus cost. It probably doesn't help that the show had an embarrassing Rotten Tomatoes score (18% from critics, 47% from fans).
What would have happened in Hoops Season 2?
Inverse asked Natasha Leggero (Ben's ex-wife Shannon), Ron Funches (assistant coach Ron), and Cleo King (Principal Opal) what they wanted to see happen with their characters in Hoops Season 2. Here's what they said.
Ron Funches: "I just want to sleep with more of Ben's exes. I think that would be a great thing for me just to constantly go through being like, 'Look, you had the rest, now try the best.' But truly, when I look comedically outside myself, I think it would be fun for Ben and Ron to switch mindsets for a while, maybe when Ben gets his shit together we see Ron get crazy and fall apart and we see what he's like if he lost his fucking mind, I think that would be fun."
Natasha Leggero: Yeah, I love that, and I think that would be a fun dynamic for Shannon too because there's some part of her that's still in love with Ben. I think if he did get his shit together she could go there a little bit, but then of course it wouldn't end well."
Cleo King: "I want to see Opal with a boyfriend! She needs a steady guy. Opal is ready for that. So she can sing to him and make love to him and kiss him. More than anything, she wants to kiss him. So Opal needs a real boyfriend. I want that for her. I want her to experience that."
Hoops is currently available to stream on Netflix.
This article was originally published on