Happy Death Day 3 Would Have Been an "Epic Apocalyptic" Horror
Director Christopher Landon peels back the curtain on his unmade third installment.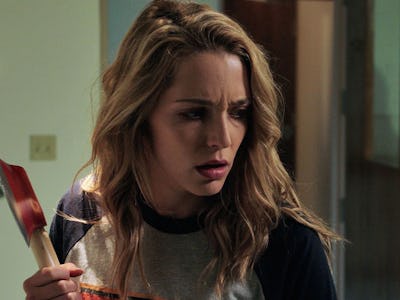 Universal Pictures/Kobal/Shutterstock
It's time to blow out the candles on Happy Death Day. Despite what sounds like wild plans for a third movie, fans won't see Tree survive another birthday.
In an interview with TheWrap to promote We Have a Ghost on Netflix, director Christopher Landon revealed his ideas for the now-axed third movie in the series. As Landon described it, the movie — which was titled Happy Death Day to Us — would have been a big-budget apocalypse horror.
"The third movie was going to be an epic apocalyptic adventure with still elements of horror," Landon told TheWrap. "That was not getting left behind. But yeah, we were going to change gears again and it was going to be bigger."
Landon said these ambitions might have been the death knell for Happy Death Day to Us, as producers were unwilling to invest in such a risky proposition. Despite the success of Happy Death Day in 2017, which grossed $125 million, its 2019 sequel Happy Death Day 2U brought in only half that. "I think that was probably also what held us back a touch because the concept for the third movie is a bigger, much bigger movie," Landon said.
He added, "I have to still keep it in my pocket on the off-chance. Because here's the thing, it's not time-sensitive ... I could make that movie whenever if they allowed me to. At some point, I'm just going to spill the beans. I had a full pitch. There was a whole movie that was ready to go in my brain. We'll see what happens."
In the first two films, college student Tree (Jessica Rothe) is caught in a time loop on her birthday. Tree is murdered each night, only to wake up the same morning in a stranger's dorm room. To break the loop, Tree has to discover the identity of her masked killer.
Happy Death Day 2U expanded on the premise, introducing sci-fi elements that took the series' small scope to a new level. While Landon didn't spill details on what an apocalyptic threequel would look like, it's not impossible to imagine the movie swinging for the fences.
While both Happy Death Day films have fans who still clamor for a third, Landon has put pretty much all hope for its continuation to bed. Despite Blumhouse's own Jason Blum telling Inverse in 2020 that a sequel was possible, Landon told Slashfilm in January 2023 that a third movie is off the table.
"There was a tiny moment where I really felt like I had Universal's attention, but they forgot about me," Landon said. "I think it's a really tough one for them, and I'm being really blunt and honest in that the first movie was very successful. It made a lot of money. It was well-received. And the sequel was not. The sequel is loved by people who have seen it, but it did not make a lot of money, and it was not a success for them. So it's very hard to motivate them to make a third movie when the last one just didn't perform. Those are the hard economics of the business."
While the universe may not allow Happy Death Day fans to see Tree go buck wild in a post-apocalyptic adventure, there's no harm in having a flicker of hope. Even if it's the hope that kills you.