Christopher Landon Has a Ghost
"I'm not just the low-budget horror guy."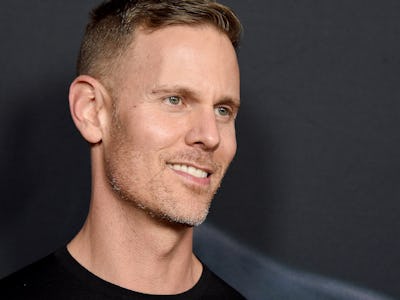 Gregg DeGuire/Getty Images
Nine times out of ten, directing a horror movie means ushering characters toward their ghastly demises. That's one reason we pay the price of admission: the kills. In subgenres like the slasher, it's traditional to cheer for death — and for screenwriters to create characters whose deaths can be cheered. Those horny teens have it coming. They're annoying. Clap for their murders!
Christopher Landon is an outlier in the culture of The Kill, not because he doesn't know his way around a wonderfully executed execution, but because he loves his characters. He cares. He wants his viewers to care, too.
"I've drawn so much inspiration from John Hughes."
"I fall in love with these people," Landon tells Inverse. "They become part of my family fabric. I feel like the movies won't succeed unless you're invested, you're in this personal journey with these characters, and you wanna see them come out on the other side better, evolved, and survivors."
Consider Happy Death Day and Happy Death Day 2U, two seemingly straightforward slashers that surprisingly find themselves at the intersection where Groundhog Day meets Scream. Think about Freaky, where classic "body-swap oopsie" hijinks are overlaid by ultra-gory slasher deaths. These movies stage inventive, often graphic, kills; but they especially invite viewers' empathy. This makes Landon's latest, We Have a Ghost, a half-pivot. The kills are absent, but the empathy remains.
After moving into their new home, a manor so rundown that even Chip and Joanna Gaines would balk at restoring it, the Presley family — Frank (Anthony Mackie) and Melanie (Erica Ash), their eldest son Fulton (Niles Fitch), and their youngest Kevin (Jahi Winston) — discover an unexpected occupant: Ernest (David Harbour), a specter with a comb-over and a bowling shirt.
Kevin isn't afraid. He befriends Ernest and then stands uncomfortably by as Frank makes the family social-media famous by posting videos of Ernest online. This draws the attention of the CIA, bent on capturing departed souls for their own shady purposes. So Kevin sets out to help Ernest find out why (and how) he died, hoping that closure will let him move on to the afterlife.
The Strange Road to We Have a Ghost
Ask a horror filmmaker their biggest influences, and they'll likely cite a genre titan or two among them: Dario Argento, Wes Craven, Mary Harron, John Carpenter, George A. Romero. Landon's key influence is atypical of the canon but makes complete sense in context with his style.
"I've drawn so much inspiration from John Hughes," Landon says. "He was someone who always treated his characters with an enormous amount of respect. That's definitely something that I've tried to do."
Respect sets Landon's horror films apart from his contemporaries. It's how he's avoided being jammed into a box, particularly after writing three Paranormal Activity movies (2 through 4) and directing two more (The Marked Ones and Next of Kin).
"For me, my biggest fear, especially after working in the Paranormal franchise, was, 'Oh, so am I just the found footage horror guy? Is that all I'm gonna be?'"
Landon points to screenwriter and director Craig Mazin as another one of his aspirational models. Today, Mazin is known as the mind behind Chernobyl and The Last of Us. His work on Scary Movie 3 and 4, both Hangover sequels, Superhero Movie, and the Melissa McCarthy vehicle Identity Thief has been obscured from memory by transient pop culture amnesia.
"That's an example of a guy who was like, 'This is not all I am. I'm other things and here's how I can prove it to you,'" Landon adds.
We Have a Ghost is his version of the same statement.
"I did want to write my way to a different kind of movie, so that I could prove to people that, yes, I can make a big budget movie, yes, I can make a family film."
We Have a Ghost is a tearjerker, a word one would not expect to describe a Landon movie, particularly for his follow-up to Freaky. It isn't a leap to assume Landon went from the latter to the former as a palate cleanser, but that assumption is nonetheless off base: We Have a Ghost actually came first.
"I had already written this movie," Landon says. "Then it kind of hit a wall, and then Freaky came along."
Like a kid bull rushing a candy store, Landon dove into Freaky's character work and excessive kills with joie de vivre. In fact, they're his inventions.
"I just have this weird knack for walking into a room and looking around and going, 'Oh, I would kill someone with that,'" he adds, casually.
"I'm not just the low-budget horror guy."
This is instructive for a couple of reasons. One, we now know the danger of being in a room with Landon. Two, there's no space Landon won't play in as long as he finds his North Star: character-driven storytelling. Landon seeks creative joy in making films of every niche for every audience, as long as they put stock in character. In fact, that's the brief he gave himself for We Have a Ghost.
"I did want to write my way to a different kind of movie, so that I could prove to people that, yes, I can make a big budget movie, yes, I can make a family film," Landon says. "I'm not just the low-budget horror guy."
From Horror Films to Family Films
We Have a Ghost is a story Landon has wanted to tell for years, where the moldy "white savior" trope is dismantled and the default — a white protagonist — is rejected.
"Where are our Amblin movies about Black families?" Landon points out. "Here's a real family. That's just who they are. And yeah, of course, there's gonna be modulations and cultural differences, but families are families." We Have a Ghost avoids overt race commentary. All the same, commentary is there, baked into the Presleys' efforts at giving Ernest justice. Compassion fuels the film.
Happy Death Day and Freaky prioritizes compassion, too, and in a genre typically short on sentimentality. They also feature a couple dozen varieties of violent, gruesome death, from stabbing to freezing to bisection. We Have a Ghost has none of these. It has humanity instead.
"I would make another gory movie in a heartbeat, you know," Landon says with a laugh. "It's really fun when you shoot a scene and then you've gotta hire a special team to power wash the ceiling because there's so much blood on it."
But in his conversations with Mackie, Ash, Fitch, and Winston, they all agreed on the same thing: The representation in We Have a Ghost, a film where an older white man is saved by a young Black kid, is important. It matters.
"After [Erica Ash] saw the movie," Landon remembers, "she called me up and she was like, I'm really proud that we made this movie. This feels special. There's not enough of these movies out there for us.'"
We Have a Ghost premieres on Netflix on February 24.