"Make It Happen!" The True Story Behind Paul Rudd's Scrapped Halloween Cameo
Blumhouse producer Ryan Turek reflects on the casting what-if that still haunts him — and the legacy of his Halloween trilogy.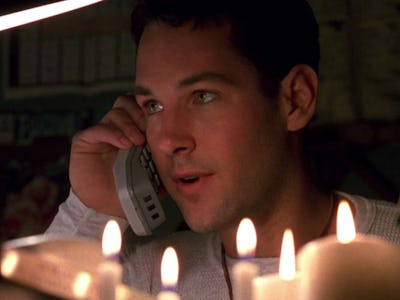 Dimension Films
Paul Rudd exists in the Halloween cinematic universe. Well, sort of.
If you've never seen Halloween: The Curse of Michael Myers, you might not be aware that the actor best known as Marvel's Ant-Man appears in the sixth installment of the horror franchise as the adult version of Tommy Doyle (a young boy stalked by Myers in the original slasher). So when Blumhouse got the chance to reboot Halloween in 2018, it was only natural that they'd see if Rudd wanted to return.
Ultimately, Rudd wasn't available due to scheduling conflicts but reportedly gave his blessing for Michael Anthony Hall to play Doyle in 2021's Halloween Kills. Now, in a new interview with Inverse, Blumhouse executive Ryan Turek reveals exactly how close the Clueless star came to joining the cast.
"About as far as from where I am to the Hollywood sign," Turek tells me, "and the Hollywood sign is way out there." Over Zoom, he aims his webcam towards the window and points into the distance of a cloudy Los Angeles sky. I can't even see the Hollywood sign.
Turek served as the "boots-on-the-ground producer" for the Halloween trilogy, working directly with writer-direct David Gordon Green (the duo collaborated again on The Exorcist: Believer, in theaters on October 6).
"David is friends with Paul Rudd," Turek says. "I know that there was a text conversation between the two of them and that was like, Make it happen! But it was Paul Rudd. He's untouchable. He is a superstar now. Come on, he's Ant-Man."
Even without a Paul Rudd cameo, Blumhouse's Halloween trilogy accomplished plenty. The 2018 reboot grounded the saga in original protagonist Laurie Strode's trauma thanks to an incredible performance from Jamie Lee Curtis. 2022's Halloween Ends took a weird and wild swing, turning Michael Myers into a sewer-dwelling recluse. (And the less said about Halloween Kills the better, at least in this writer's opinion.)
But does this trilogy actually hold up as, well, a trilogy? I'm not sure it does, but when I put the question to Ryan Turek, he reflexively pushes back.
"I do think the Halloween trilogy tells one big cohesive story, both on a slasher level as well as a thematic level for both Laurie Strode and Michael Myers," he says.
So what ties the three movies together? Turek has a theory:
"I didn't really call it the Laurie Strode trilogy, which it very much is, I think I called it the Nature of Evil trilogy because that's really what each movie is about. If you look at it, it's like: How does evil affect a singular woman? How does evil affect this woman and her legacy and life? We see that in Halloween. And then it's: How does evil affect a grander town? How does evil affect your neighbors? And what it does is it stirs everybody up into a frenzy. And then the third one is: How can evil change someone?"
As for those bad reviews, Turek compares the Blumhouse movies to Halloween III: Season of the Witch, a sci-fi thriller that tried to turn the franchise into an anthology — and pissed off a lot of fans in the process only to eventually gain a cult following.
"I think that in time, much like Halloween 3, the discourse is going to be much more interesting."