Guillermo del Toro Almost Directed a Gritty Star Wars Movie With an Unexpected Hero
The king of creature features nearly brought his skills to a galaxy far, far away.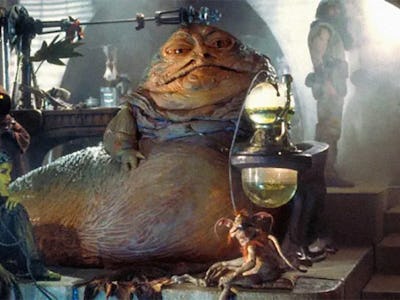 Lucasfilm
A not very long time ago, Lucasfilm was working hard to expand the Star Wars galaxy. The studio had all sorts of spin-offs in the pipeline, most of which no one really wanted to see. A few came from filmmaker David S. Goyer, the mind behind genre hits like the Blade trilogy, Man of Steel, Foundation, and Christopher Nolan's Dark Knight saga. Goyer is no stranger to a failed prequel, having been tapped to direct X-Men Origins: Magneto before it was shelved in 2008. His partnership with Lucasfilm was equally short-lived, culminating in a "scriptment" for a Jedi Order origin story, and a script for a film Guillermo del Toro would have directed.
Goyer recently appeared on the Happy Sad Confused podcast, where he told host Josh Horowitz a bit about his Star Wars tenure. "I wrote an unproduced Star Wars movie that Guillermo del Toro was going to direct," he said. Goyer was coy with further details, but he did explain why the film was shelved... sort of. "There was just a lot of behind-the-scenes stuff going on at Lucasfilm at the time. But it's a cool script … you'll have to ask Guillermo about it next time he's on."
Fortunately, we won't have to wait for del Toro's return to Happy Sad Confused to learn more. The director confirmed Goyer's reveal via Twitter, even offering a hint for curious fans: "Can't say much. Maybe two letters 'J' and 'BB' is that three letters?"
Del Toro's film had nothing to do with Jar Jar Binks or BB-8, but the Tattooinian crime lord Jabba the Hutt. The filmmaker's been talking about a Jabba-centric prequel since 2015, when he shared his dream with Yahoo! Movies. "I would do the sort of Godfather saga that Jabba the Hutt had to go through to gain control," del Toro said. "I love the idea of a Hutt type of mafia, a very complex coup. I just love the character."
Back in 2015, del Toro's pitch was just a fantasy, or as he put it, "This is me as a fat geek just geeking out and talking about it." Somewhere down the line, that fantasy came close to becoming a reality, but the project has since been shelved, perhaps indefinitely. Star Wars has explored Godfather-esque crime sagas since with Solo: A Star Wars Story and The Book of Boba Fett, but neither reached the gritty heights older fans have been hoping for. A closer look at the crime syndicates that run the Star Wars galaxy may not be in the cards, but maybe del Toro will take a page from Zack Snyder's book and kick off his own intergalactic space opera.