5 Fast & Furious Characters You Need to Remember Before Seeing 'Fast X'
Heroes and villains come and go. But family is forever.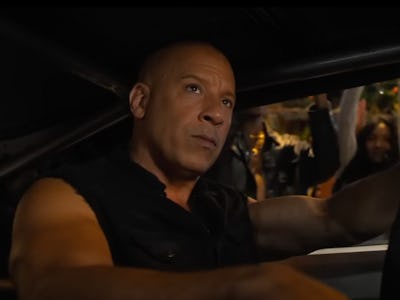 Universal Pictures
The family just keeps getting bigger.
With Fast X racing into theaters, Hollywood's unlikeliest franchise deepens its shockingly dense lore. What once used to be about street racing and drug trafficking now encompasses super spies, cutting edge military technologies, and world-ending bombs. It can all be hard to keep up with if you've not been down with Dom's family since day one.
This time in Fast X, Dominic Toretto (played by Vin Diesel, of course) squares off with Dante Reyes (Jason Momoa), the vengeful son of drug lord Hernan Reyes whose family fortune was stolen by Dom's crew in 2011's Fast Five. And lest we forget, it was none other than Luke Hobbs (Dwayne Johnson) who put the bullet in Hernan's chest.
But so much has happened since Fast Five over 10 years ago. A lot of characters have surfaced, and they continue to matter even now in Fast X. Here are the handful of characters you need to be reminded of, and how exactly they matter, before seeing Fast X.
Jakob Toretto
When audiences first met Dom's secret brother Jakob (John Cena) in F9, they knew him as a stoic hunter intent on killing his own flesh and blood. But after a convoluted redemption at the end of the movie, Jakob is back in Dom's graces. He returns in Fast X to provide some much needed help and comic hijinks, with an inexplicably livelier personality befitting the "Uncle Jakob" to Dom's son Brian.
Magdalene "Queene" Ellmanson-Shaw
Dame Helen Mirren first played the mother of the outlaw Shaw siblings in 2017's The Fate of the Furious. While her first confrontation with Dom was hostile and confrontational, the two have warmed up to each other with Queenie herself getting behind the wheel in F9. Now in Fast X, she provides Dom some surrogate motherly affection and advice, never mind that Rita Moreno also appears in the movie as Dom's mother.
Elena Neves
Elsa Pataki first played Elena in Fast Five where she was a by-the-books cop in Rio de Janeiro picked out by Luke Hobbs (Dwayne Johnson) for her instincts and strict moral code. Surely no one, not even Elena herself, imagined her becoming romantically involved with Dom back when Letty (Michelle Rodriguez) was believed to be dead.
In The Fate of the Furious, Elena is killed by Charlize Theron's Cipher (more on her soon), but not before leaving behind a son that Dom names after Brian.
While Elena is one of the few characters in the Fast Saga to actually stay dead, her ghost still lingers. Especially through a new character, played by Daniela Melchior, who has deep ties to Elena that is revealed in the movie.
Cipher
The enigmatic master hacker played by Charlize Theron has been the villain of the Fast Saga twice now, first in The Fate of the Furious and again in F9. With Dante as the disruptive new bad guy on the block, it's Cipher who now finds herself seeking the help of Dom, though that still doesn't make Cipher welcome at Dom's barbeque. In fact, Fast X lets Letty finally have a long overdue showdown with Cipher, though you can imagine Cipher is simply killing time.
Mr. Nobody
Mr. Nobody (Kurt Russell) is missing, and presumed dead, since F9 when Jakob shot his plane down. It seems even the Agency is unaware of his real whereabouts, as new characters Tess, Mr. Nobody's daughter (Brie Larson) and his student Aimes (Alan Ritchson) only speak of him as being on an extended absence.
But even without Mr. Nobody present, the domineering reach of the Agency functions as extensions of Mr. Nobody himself: as strange and omnipresent as the man who ran it. It's up to the movie gods if the next Fast & Furious sequel will bring Mr. Nobody back from the brink of death. Given this franchise's track record with life and death, it's probably only a matter of time.
Fast X opens in theaters on May 19.