The Most Controversial Epic Movie Franchise in the World Is in Serious Trouble
Say goodbye to Hogwarts... for now.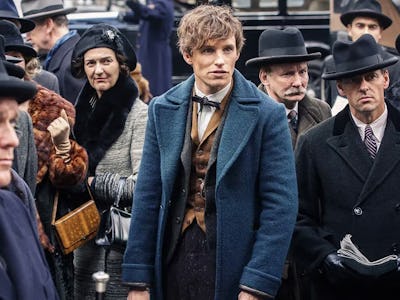 Warner Bros.
There's no overstating how Harry Potter dominated 2000s culture. Fans would camp outside bookstores for midnight releases, spoilers could ruin friendships, and Warner Bros. captured lightning in a bottle for its accompanying movie series, which showed the wizard and his friends growing up alongside the kids who watched them.
But now, those kids are growing up. Liking Harry Potter has become the hallmark of Millennial corniness, and J.K. Rowling's political stances are making the nostalgia harder to embrace. That shift is being felt by the minds behind what could have been the next phase in a new cinematic universe, but instead has become a cultural behemoth simply petering out to a quiet conclusion.
The follow-up to the mainline Harry Potter movies was the prequel Fantastic Beasts and Where to Find Them, the first in a series following Newt Scamander (Eddie Redmayne), keeper of magical creatures, as he ventures into the Muggle world and eventually crosses paths with a younger Albus Dumbledore (Jude Law).
While Fantastic Beasts was a big hit, the two sequels, Fantastic Beasts: The Crimes of Grindelwald and Fantastic Beasts: The Secrets of Dumbledore, while no slouches, began to drop off at the box office. Their increasingly serious and convoluted tales divided fans, and now they may be the last we see of the Wizarding World on-screen for a while.
"With Beasts for a minute, it's all just parked," Fantastic Beasts director David Yates told the Inside Total Film podcast. "We got to the end of [Secrets of Dumbledore], and we're all so proud of that movie, and when it went out into the world, we just needed to sort of stop and pause, and take it easy."
Harry Potter author and Fantastic Beasts screenwriter J.K. Rowling may have set expectations too high when she announced plans for five movies at a 2016 screening. "The idea that there were going to be five films was a total surprise to most of us," Yates said. "[Rowling] just mentioned it spontaneously, at a press screening once. We were presenting some clips of [Fantastic Beasts]. We'd all signed up, very enthusiastically. And Jo, bless her, came on and said, 'Oh, by the way, there's five of them.' We all looked at each other — because no one had told us there were going to be five. We'd committed to this one. So that was the first we'd heard of it."
So while this "parking" of the franchise may sound like the demise of Harry Potter as a whole, it may just be the natural conclusion of this particular story, at least from Warner Bros.' perspective. Maybe Newt Scamander's tale was only ever meant to be a trilogy, not the eight-movie saga it succeeded, and that's okay.