Everything we know about Marvel's Eternals 2
Will the Eternals return for a sequel?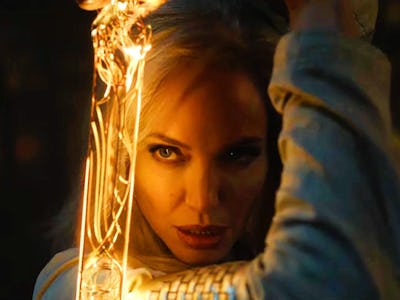 Eternals opened the Marvel Cinematic Universe to larger than life, some of which we had never seen before from the studio. The movie follows a group of ancient aliens, called the Eternals, sent to Earth thousands of years ago to protect the human race from dangerous creatures called Deviants.
Directed by Chloé Zhao and featuring a star-studded cast, Eternals not only establishes a new set of characters and histories, but the film also sets up its sequel.
With that said, of course, you will be leaving Eternals, wondering what the status of Eternals 2 is. Here's everything we know about the sequel, from its plot to when it releases in theaters.
Major spoilers for Eternals ahead.
Is Eternals 2 confirmed?
Marvel Studios has not yet confirmed Eternals 2. Whether the movie will get a sequel was one of the hot topics leading up to its release. With its slew of negative reviews, fans wondered if Eternals will continue beyond its first movie. Even Marvel producer Nate Moore placed some doubt on Eternals' future in an interview with The Toronto Sun.
"It's not something that is a must-have," Moore said when asked if Eternals will be a trilogy. "Obviously, we have ideas of where we could go, but there isn't a hard and fast rule where we have to have three of these things and this is the first."
Despite Moore's comments and the movie's low Rotten Tomatoes score, Eternals does say it will return at the very end of its credits. The intent to continue the story is clear, especially with how the movie ends and what is teased in its two credits scenes. Regardless, Eternals' performance at the box office will ultimately tell us if Marvel Studios will proceed with Eternals 2.
What is the Eternals 2 release date?
Since Marvel Studios hasn't greenlit the sequel, Eternals 2 does not have a release date yet. If Marvel confirms Eternals 2 in the weeks following its theatrical release, it might not be until 2023 or later until the movie is ready to be released.
Does Eternals 2 have a trailer?
Eternals 2 does not have a trailer yet. Until it does, you can rewatch the Eternals trailer below.
Who is in the Eternals 2 cast?
Eternals 2 will likely see the return of the following cast members:
Gemma Chan as Sersi
Kumail Nanjiani as Kingo
Lauren Ridloff as Makkari
Barry Keoghan as Druig
Kit Harington as Dane Whitman
Angelina Jolie as Thena
Salma Hayek's Ajak and Don Lee's Gilgamesh are unlikely to be in the sequel, seeing as their characters passed away in Eternals. Whether Lia McHugh will return to play Sprite after her character is transformed into a mortal is unknown. It is also unclear if we will see Richard Madden's Ikaris again after he betrayed his fellow Eternals and failed in his mission to stop them from halting the emergence.
As teased in the film's mid-credits scene, Harry Styles is likely to join the cast of Eternals 2 as Thanos' charismatic brother, Eros. Along with Eros, Pip the Troll sees comedian Patton Oswalt join the cast as the voice of the CGI sidekick.
What is the plot of Eternals 2?
The exact plot of Eternals 2 is unknown. But from what we can surmise from the end of Eternals, it will likely revolve around Arishem's kidnapping of Sersi, Kingo, and Phastos after they stopped the emergence from happening. It seems like if a rescue is part of the plan, it may involve the help of Harry Styles' character Eros, who Thena, Makkari, and Druig encounter during the mid-credits scene.
There is also Dane Whitman, who — based on the comics — inherits the Ebony Blade and becomes Black Knight, which we see in the post-credits scene. Eternals 2 may see Whitman become a hero to save his girlfriend Sersi from Arishem's clutches.
Hopefully, we won't have to wait an eternity to see what happens in Eternals 2.
Eternals 2 does not have a release date.