Pixar's New Sci-Fi Movie Is a Modern Twist on a Classic Genre
Don't you hate it when a mix-up forces you to save the human race?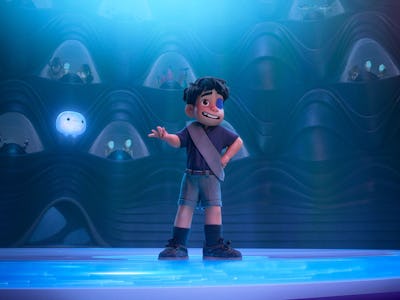 Pixar
Pixar seems to be on a bit of a sci-fi bent. Say what you will about the necessity of Lightyear, but it was a great sci-fi movie that showed off the strength of the studio's animation style. Now, Pixar is tackling one of the greatest tropes in science fiction, to predictably adorable results.
Elio is about a small boy who, through a strange coincidence, is brought to a summit of various alien civilizations known as the Communiverse. He realizes they think he's the leader of Earth, and he's forced to go along with the case of mistaken identity, even though it means defending his planet in an intergalactic trial. Here's the teaser:
Elio isn't just a sci-fi movie, but a sci-fi Unlikely Hero movie, one of the genre's most beloved tropes. Unlike Luke Skywalker-style Chosen One stories, Unlikely Heroes see a truly ordinary person — no hidden magical skills, no famous long-lost relatives — rise to meet the moment. Bilbo Baggins is probably the most famous example, but they're all over genre media.
Pixar has given us Unlikely Heroes before, like Carl's story in Up. But this is a new approach for the studio. It's more like its take on Mark Twain's A Connecticut Yankee in King Arthur's Court or Disney's The Flight of the Navigator.
Elio has the chance to build on previous Pixar projects and create a perfect amalgam of well-loved tropes: an adorable protagonist, an ordinary hero thrust into an extraordinary situation, and a sci-fi world equally enchanting and terrifying.
Throw in themes of achieving self-confidence, understanding the differences of those around you, and appreciating the beauty of the world, and Pixar hopefully has another hit on its hands. If nothing else, it might assuage everyone in the family, from those who watch Coco on repeat to those who are more into The Hitchhiker's Guide to the Galaxy.
Elio hits theaters in 2024.