Elizabeth Olsen Hints the MCU May Have Future House of M Plans
Since joining Marvel, Elizabeth Olsen has talked up the famous crossover comic. The MCU may finally do it.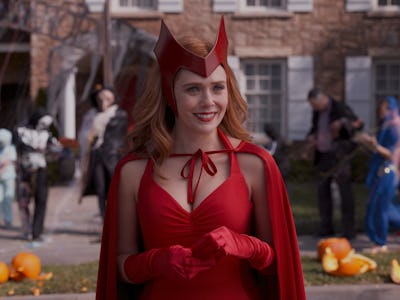 Marvel Studios
It's been almost two years since WandaVision, and nearly a year since Scarlet Witch met her doom in Doctor Strange in the Multiverse of Madness. But at a convention in Kuwait, Elizabeth Olsen hinted that her time in the Marvel Cinematic Universe isn't over. In fact, the best may be yet to come.
On February 25 at Comfest Con, Olsen appeared to greet Middle Eastern fans. At a panel, a fan asked her about comic book storylines she still wants to play out on screen. Olsen's reply garnered cheers when she said:
"Well, honestly, if I were to tell you exactly what I would want, I think I would maybe be spoiling something. Because Kevin Feige genuinely asks us what we want to do with the character, and he does it. I don't think I can share, but I just want to come back."
Since Olsen joined Marvel for Avengers: Age of Ultron in 2015, the actress has alluded to wanting to tell one of Wanda's biggest comic book storylines: House of M. In a November 2020 interview with Entertainment Weekly, Olsen said, "I've always been hungry to lean into the comic book stories that we're leaning into in this show. And I didn't know if I'd have the opportunity to explore it."
Written by Brian Michael Bendis in 2005, House of M centers on Wanda suffering a breakdown and using her psychic powers to create an alternate timeline where her lost children are alive, at the cost of everything else in the Marvel Universe. At the end of the story, the mutant population is nearly wiped out.
Elements of House of M have been dispersed throughout the MCU's Phase 4, with both WandaVision and Multiverse of Madness echoing it. Even Jimmy Kimmel thinks there's a reference to House of M hidden in WandaVision. However, a full-blown adaptation hasn't happened, and it remains a wish list item for many fans.
Ironically, a House of M-style movie is more plausible now despite Wanda's death. The current Multiverse Saga has had several examples of mutants, and maybe even the X-Men, existing in the MCU. And if mutants exist, then it's possible Marvel can play out some version of House of M. It's only possible now because of Disney's acquisition of 20th Century Fox, which previously held the film and TV rights to the X-Men.
There are other Marvel storylines where Wanda plays a key role, but few are as pivotal to understanding her as House of M. Though Wanda apparently died at the end of the Doctor Strange sequel, the multiverse is full of Wandas. Besides, no superhero stays dead. But if Wanda's return happens in something resembling House of M, then the MCU may change forever.