Marvel Book Reveals the One Avengers Actor Who Will Never Return
15 years later, The Incredible Hulk remains the MCU's black sheep.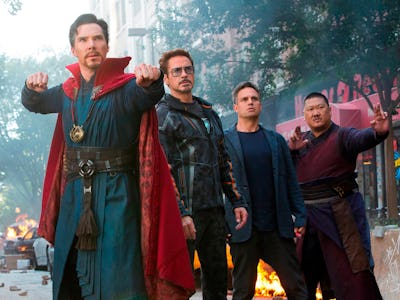 Marvel Studios
With the multiverse growing in prominence, Marvel's Cinematic Universe is getting that much bigger. The MCU has already pulled in cameos from every corner of the Marvel world, and as the Multiverse Saga creeps toward its conclusion with Avengers: Secret Wars, nothing seems to be off the table. If Anson Mount can reprise his Inhumans role in Doctor Strange in the Multiverse of Madness, anything's possible, right?
Well... not exactly. According to Joanna Robinson — whose new book, MCU: The Reign of Marvel Studios, recently hit shelves — there's one actor Marvel executive Kevin Feige has severed ties with for good.
"If the Inhumans could be rehabilitated, apparently everyone in MCU history was on Feige's call list," Robinson writes of Mount's Doctor Strange cameo — before adding a caveat. Edward Norton, "the franchise's first Bruce Banner," is apparently out in the cold. So is Joss Whedon, who helped build the Avengers and Marvel's Agents of S.H.I.E.L.D. series.
Robinson notes the characters Whedon created will remain "in limbo," which explains their absence in any of Marvel's team-up events. Why Feige is so hesitant to bring them into the MCU, even for brief cameos, remains a mystery. But his chilly rapport with Norton, who starred in (and co-wrote) Marvel's second-ever film, The Incredible Hulk, has been well documented from both sides.
The Incredible Hulk is regarded today as the MCU's first failure: it's not easy holding your own against the smash success of Iron Man. Hulk hit theaters just a month after Iron Man took the world by storm, and most have classified it as a flop because of their proximity. But the film wasn't actually a failure, at least not on paper. The true tumult happened behind the scenes, between Norton and director Louis Leterrier, and Marvel's established creative team.
The Hulk production may be the most publicized drama on Marvel's otherwise squeaky-clean record. Norton volunteered to help with a final draft of the script after writer Zak Penn departed the project, but the rewrites didn't end there: Norton continued to revise the script during production. Norton and Leterrier were fighting for a more cerebral version of the story inspired by the gritty origin story in Batman Begins.
"What Chris Nolan had done with Batman was going down a path that I aligned with: long, dark and serious," Norton told The New York Times in 2019. He'd reportedly laid out a two-film plan in his pitch to Marvel Studios, "And they were like, 'That's what we want!' As it turned out, that wasn't what they wanted."
Instead, Feige and Marvel wanted a monster movie like Godzilla. These conflicting visions must have led to irreconcilable differences between Norton and the studio. Shortly before development began on The Avengers, Feige released a statement on the actor's role in the MCU:
"We have made the decision to not bring Ed Norton back to portray the title role of Bruce Banner in the Avengers. Our decision is definitely not one based on monetary factors, but instead rooted in the need for an actor who embodies the creativity and collaborative spirit of our other talented cast members."
Mark Ruffalo took over for Norton, and Norton moved on to other projects. He's since pushed back against the comments, calling the statement "cheap" in his Times interview. "But it doesn't matter ... I went and did all the other things I wanted to do, and what Kevin Feige has done is probably one of the best executions of a business plan in the history of the entertainment industry," Norton said.
There's a sense that a lot more went down than either party is willing to let on, given Feige's reluctance to bring Norton back even for a cameo, especially now that other characters from The Incredible Hulk have since been integrated back into the MCU. It's nice that both parties have more or less kept it cordial, but Hulk remains a sore spot in Marvel's impenetrable brand... and we may never know the true reason why.