Joe Manganiello's New D&D Series Could Be the Next Game of Thrones
Actor and D&D super fan Joe Manganiello is adapting the epic Dragonlance book series to TV. The adventure is just beginning.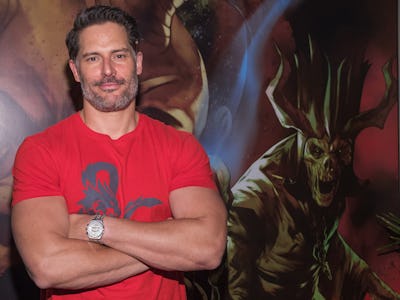 Mat Hayward/Getty Images Entertainment/Getty Images
There's no one in the realm more hardcore about Dungeons & Dragons than Joe Manganiello. Now, the True Blood and Magic Mike star is harnessing his passion for the tabletop game into not one but but two different projects. One of them is a newly-announced TV adaptation of Dragonlance that's sure to fill the Game of Thrones void in people's hearts.
In a March 28 D&D Direct — an online presentation by Wizards of the Coast to update fans on the Dungeons & Dragons brand — actor Joe Manganiello spoke about his in-progress documentary that traces D&D's 50-year history. But Manganiello revealed bigger news when he talked up his admiration for the Dungeons & Dragons novel series, Dragonlance.
"Ultimately, it was my love of Dragonlance that opened the door for my involvement with the brand, working tirelessly to develop a live action version of the Dragonlance novels that have never been far from my thoughts throughout all these years since I first read them," Manganiello said.
Beginning with Dragons of Autumn Twilight in 1984 by Margaret Weis and Tracy Hickman, the Dragonlance series now encompasses over 200 novels that follow numerous characters who inhabit the vast world of Krynn. Dragonlance's popularity over 40 years has allowed it to exist as almost its own franchise under D&D with a shared universe of media including comics, games, and animated movies.
In 2017, Manganiello co-wrote a spec script for a film version of Dragons of Autumn Twilight for Warner Bros. In February 2023, Manganiello was a celebrity client for Black Forest Wood Company, which made a table for Manganiello's D&D games in his home. In a YouTube video released by the company, the actor alluded to working on both a D&D documentary and a TV series. "I work for Dungeons & Dragons," Manganiello said, "I'm actually shooting a documentary right now and I'm developing a TV show for them." It's clear now that this D&D TV show is a live-action Dragonlance adaptation.
Dragonlance isn't as dark, cruel, or mature as George R.R. Martin's Game of Thrones books. But as dense novels loaded with characters, worldbuilding, and long-running story arcs, a Dragonlance television series could satisfy the quest other rival shows like The Rings of Power, The Wheel of Time, and House of the Dragon. But it's to be determined if Manganiello's efforts roll a natural 20.