Max's Dune: The Sisterhood TV Series Is Now Dune: Prophecy — Here's What We Know
Brush up on your Bene Gesserit.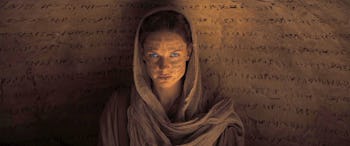 Warner Bros
We may receive a portion of sales if you purchase a product through a link in this article.
Before the Spice could flow and Paul Atreides was born, the sisterhood of the Bene Gesserit existed in the world of Dune.
In the lore of this dark and dangerous sci-fi galaxy — as depicted in Denis Villeneuve's 2021 blockbuster, and its upcoming 2024 sequel — it's difficult to overstate the power wielded by the order of the Bene Gesserit. But for those unfamiliar with Frank Herbert's Dune novels, the importance of the Bene Gesserit can be confusing to explain.
To fix this and because the Bene Gesserit are as awesome as they are interesting, Max will, eventually drop a streaming prequel series which was previouly titled Dune: The Sisterhood, but is now called Dune: Prophecy. Originally announced back in 2021, this long-in-development series is still thought to focus on the Bene Gesserit. So, as of now, here's everything to know about this upcoming TV series: the showrunner, the cast, the trailer, and, of course, how it all connects to the Dune films. Mild spoilers for the Dune novels ahead.
What is Dune: Prophecy?
Dune: Prophecy is a direct-to-streaming TV series in development at Max. The series is set to tell the story of the Bene Gesserit, a religious and quasi-magical order of female "witches" within the Dune canon. That ominous catchphrase you may have heard — "fear is the mind-killer" — comes from the Bene Gesserit. They're like Jedi, but all women and super-secretive.
The series will be set roughly 10,000 years before the events of the first Dune film. Initially, this series was titled Dune: The Sisterhood, and was thought to be based on the 2012 prequel novel The Sisterhood of Dune, by Brian Herbert and Kevin J. Anderson. It is unclear now how much of that source material will be used.
The creative team behind Dune: Prophecy
First greenlit in 2019, the series has had a variety of showrunners. At first it was Dune: Part One screenwriter Jon Spaihts, but then, on July 22, 2021, Variety revealed that Diane Ademu-John was replacing Spaihts as the showrunner of The Sisterhood. In 2022, when production was to commence, Ademu-John left the project, and her co-showrunner, Alison Schapker remained. As of this writing, Schapker is the only showrunner.
It had previously been reported that Dune director Denis Villeneuve will direct the pilot episode of The Sisterhood. However, Villeneuve is no longer directing. In 2022, it was revealed that Johan Renck would direct the first two episodes, though, in February 2023, he left the project. Early episodes are now thought to be directed by Anna Foerster. She previously directed Underworld: Blood Wars in 2016, and has worked on a variety of genre films including Alien: Resurrection and Independence Day. With rumors that Prophecy will be a more action-adventure series than perhaps previously thought, Foerster's experience with sci-fi action seems to be a good fit.
Who is in the cast of Dune: The Sisterhood?
The cast of Dune: The Sisterhood is an interesting mix of familiar faces and rising stars. If you've even a remote interest in science fiction TV and film, you'll recognize at least one of these names.
Emily Watson as Valya Harkonnen
Olivia Williams as Tula Harkonnen (this role was previously played by Shirley Henderson)
Jodhi May as Empress Natalya (this role was previously played by Indira Varma)
Sarah-Sofie Boussnina as Princess Ynez
Shalom Brune-Franklin as Mikaela
Faoileann Cunningham as Sister Jen
Aoife Hinds as Sister Emeline
Chloe Lea as Lila
Mark Strong as Emperor Javicco Corrino
Two actors have left the production of this series since 2021, Shirley Henderson and Indira Varma. The reasons for both exits seem to be tied to scheduling issues due to the start-and-stop nature of the production overall.
One point of interest here is that none of these characters come from the original six Dune novels. Instead, sisters, Valya and Tula come from the 2012 novel Sisterhood of Dune. Meanwhile, Empress Natalya seems to be a composite of a few characters from this novel and other prequel books, while Princess Ynez, Mikaela, Sister Jen, Emeline, and Lila all appear to be entirely new characters created for the TV series.
Finally, Javicco Corrino is a new Emperor character, however, the line of Corrino emperors has a long history in Dune. The "current" Emperor in the present tense of the first Dune novel is Shaddam Corrino IV, who will be played by Christopher Walken in the 2024 film Dune: Part Two. This means that Mark Strong is playing Christopher Walken's ancestor in Prophecy.
Is there a trailer for Dune: Prophecy?
Not yet. The series is very much in preproduction at this time. That said the book upon which some of the series is based, The Sisterhood of Dune, is very much available now.
What can we expect Dune: Prophecy to premiere on Max?
Dune: The Sisterhood was slated for 2020 at one point, and then, 2022. But come on, this is a Dune project! Delays are the name of the game. As of now, the series is set to premiere on Max in late 2024.
Dune: Prophecy timeline, explained
According to Variety, the new series "will serve as a prequel to the films." Specifically, this has been revealed to be the year 5 BG, which in the Dune timeline, stands for "Before Guild." Essentially, the series takes place in a tempestuous moment in the galaxy's history, a few centuries after the Butlerian Jihad has outlawed artificial intelligence, but right before the Spacing Guild is codified, which creates the economic status quo for centuries to come. This means we're also at the very beginning of the Bene Gesserit sisterhood, at least the version of that we come to know in the later Dune installments.
Dune: Prophecy setting, explained
Though some apocryphal sources suggest the Bene Gesserit began on Earth, our planet doesn't really appear in the Dune mythos, even though it canonically is where all these people came from. That said, this series will likely not be set on Earth, but likely focus much of its action on the planet Wallach IX, which, historically, is the home base for the Bene Gesserit. This means that a chunk of this new Dune series might not take place on Dune itself, the planet Arrakis.
Then again, because the Bene Gesserit's Missionaria Protectiva program is directly responsible for seeding religious myths on Arrakis (which Jessica and Paul benefit from centuries later) it seems very likely at least some of the action will happen on Dune. The new character of "Mikaela," is described to be as "a strong-willed Fremen woman who serves the royal family while longing for a home planet she's never known." This seems to be a huge clue that at least some earlier version of Arrakis will feature prominently in Prophecy since the Fremen (at least by the time of Dune) are native to Arrakis.
With all the royalty in this show it's also likely to expect plenty of action to take place in the royal courts, which, at this point will either be located on the planet Kaitain or, maybe Salusa Secundus. Either way, with at least three different planets in play, Prophecy may be different than the film versions of Dune in one big way: There might be a lot more space travel.
Dune: Part 2 (2024) is scheduled to hit theaters on March 15, 2024.
This article was originally published on