Disney May Be On the Verge of Fixing Star Wars' Biggest Problem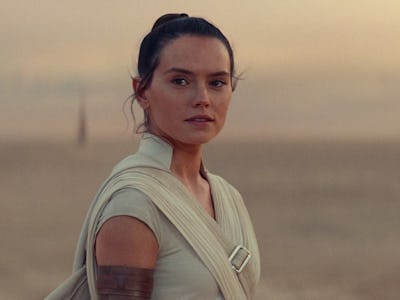 Lucasfilm
It's been an exciting past few days for Star Wars fans.
Thanks to this year's Star Wars Celebration event in London, fans have gotten everything from new looks at upcoming shows like Ahsoka to game-changing casting announcements. In case that wasn't enough, Lucasfilm also used the event to share several updates that have drastically redefined the big-screen future of the Star Wars franchise. Of those updates, the most exciting was Lucasfilm president Kathleen Kennedy's announcement that the Disney-owned studio has three new Star Wars films in development.
One of the movies will take place in the New Republic era of The Mandalorian and will be directed by Mandalorian director and Ahsoka creator Dave Filoni, while another will take place after the events of Star Wars: Episode IX — The Rise of Skywalker and will follow Daisy Ridley's Rey as she attempts to build a new Jedi Order. The latter film will be directed by Ms. Marvel and Saving Face director Sharmeen Obaid-Chinoy. Meanwhile, the third of the three live-action films will be directed by Logan filmmaker James Mangold and will take viewers back to the dawn of the Jedi.
All three films sound ambitious in their own right. Together, they also open the door for the Star Wars franchise to enter an entirely new era in its history and address the series' most baffling issue.
In the 46 years since Star Wars: Episode IV — A New Hope was released in theaters, Lucasfilm has explored a surprisingly small portion of its fictional galaxy's history on-screen. Indeed, most of the live-action and animated titles that the studio has released over the years have all, for the most part, taken place within the same 67-year period between The Phantom Menace and The Rise of Skywalker. Shows like The Clone Wars, Rebels, and The Mandalorian have continued to mine certain in-between periods throughout the series' Skywalker Saga for all their worth, too.
To be fair, Lucasfilm hasn't struggled to find new stories to tell within the franchise's established, core period. However, given just how vast and old the series' fictional galaxy is, Lucasfilm's reluctance to venture further into the past or future on-screen has always been genuinely frustrating. Thankfully, Kennedy's recent announcement suggests that Lucasfilm may finally be ready to expand the scope of the Star Wars franchise on the big screen.
Assuming that these three films actually happen (an admittedly big assumption, given Lucasfilm's recent track record) and are received well, they could give the studio the motivation it needs to start focusing more on new, previously unexplored eras of Star Wars history. The three films could, additionally, kickstart a trio of new franchises for Lucasfilm that could not only run concurrently with each other but could also stand on their own.
The Inverse Analysis — Even with Lucasfilm's recent string of announcements, there's still plenty of mystery surrounding the future of the Star Wars franchise. Kennedy and co. have proven repeatedly that just because a project is in development at Lucasfilm doesn't mean it'll ever actually get made. Fans will, therefore, just have to wait to see exactly how far each of these three, newly announced films make it through Lucasfilm's notoriously difficult development pipeline.
All that said, should Mangold, Filoni, and Obaid-Chinoy's films ultimately prove to be successful efforts for Lucasfilm, they could kickstart a new era for the studio — one that isn't as defined by its executives' fear of the unknown.