The Best Disney+ Originals are Finally Getting Physical Releases
At long last, the first wave of Marvel and Star Wars Disney+ originals are getting physical releases.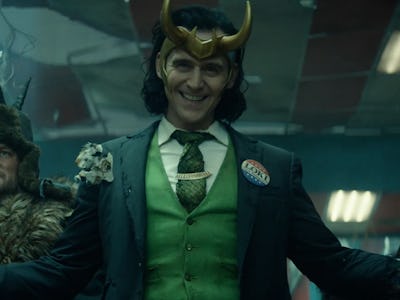 Marvel Studios
Living in the streaming era was supposed to be fabulous: hundreds of thousands of movies and TV shows available with only an internet connection and a subscription. However, in 2023, that utopian future is slowly becoming less and less ideal. Instead, original shows and movies like HBO's Westworld or Disney+'s Willow are being erased from streaming without a trace.
It used to be that your favorite show disappearing from Netflix wasn't a big deal because you could still just buy a physical copy. But with DVDs and Blu-rays becoming less common, the truth is that when a streaming original leaves that streamer, it might really be gone forever. Thankfully, after resisting for years, one of the major streamers is giving in to demand.
In a press release on August 21, Disney announced 4K UHD and Blu-Ray releases of WandaVision, Loki Season 1, and The Mandalorian Seasons 1 and 2 will be available for purchase over the rest of 2023, with Loki Season 1 the first to release on September 26, 2023 — just in time for Loki Season 2 on October 6.
All four titles will also contain bonus features, with Loki including:
Designing the TVA – Step into the incredible set of Loki Season 1 with Production Designer, Kasra Farahani, and Tom Hiddleston while getting a sneak peek into Season 2.
The Official TVA Orientation Video – Miss Minutes explains the inner workings of the TVA timeline in her orientation video.
Gag Reel – Take a look at some of the fun outtakes on set with the cast and crew of Loki Season 1.
Deleted Scene: Loki's Coronation – Mobius reviews some moments from Loki's timeline, in which Frog Thor makes an appearance during Loki's coronation.
Deleted Scene: The Standoff – Loki holds Sylvie hostage against the TVA in a standoff.
Assembled: The Making of Loki – Loki explores the series centering on the MCU's chief mischief maker.
But most impressively, each title will be released in a Blu-ray Steelbook with box art designed by Attila Szarka and collectible concept art cards. You can see Szarka's designs for Loki Season 1, Mandalorian Season 1, and WandaVision below.
This is a great sign for Disney+. After 20th Century Studios (a subsidiary of Disney) found massive success on Hulu with Prey, fans were clamoring for a physical release so they could own the chapter of the Predator franchise for themselves. These demands were answered just last week when Disney announced a similar physical release available on October 3. (Although horror fans will likely point out that Disney is still holding out on us when it comes to a physical release for Barbarian.)
Is this the first sign that the era of "streaming exclusivity" is finally over? After years of just hoping fan-favorite shows will stay available, we'll now be able to have copies of them that will always be available — and look pretty good on a shelf. Now we only have to wait and see if Hawkeye, Obi-Wan Kenobi, Ms. Marvel, and The Book of Boba Fett will get the same treatment.
Loki Season 1 will be available on September 26, 2023. WandaVision will release on November 28, 2023 and The Mandalorian Seasons 1 and 2 will be available on December 12, 2023. All four titles will be available for preorder on August 28, 2023.