The DC Universe is Taking the HBO Approach With Its TV Shows
It's not TV. It's DC HBO.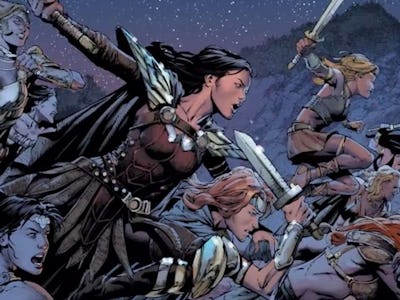 The DC Universe has had a long and complicated history, but it looks like there's finally a concrete strategy emerging from trial and error. But while the movie news captured most fans' attention, there's an interesting trend apparent in the television offerings.
In a streaming universe that's competing with the Marvel Cinematic Universe's successful expansion to Disney+ originals, DC is completely bucking the trend by crafting shows that aren't DC shows on HBO — they're HBO shows that happen to be set in the DC Universe.
DC's past television offerings have always struck a very CW-esque tone — probably because many of their shows began on the CW. After trying to establish a streaming service of its own, these DC shows ended up on HBO Max. There, new shows like Peacemaker joined the ranks of The Arrowverse, Doom Patrol, and Titans.
But in perusing DC's upcoming slate, there's one major trend in the franchise's new TV shows — they name-drop some major "prestige TV" titles as an influence. There's Lanterns, which DC co-chief Peter Safran described as a "huge HBO-quality event" that is "very much in the vein of True Detective."
One HBO reference is a coincidence, but then just below Lanterns is Paradise Lost, which Safran called a "Game of Thrones-ish story" following political intrigue of Themiscyra in a pre-Wonder Woman age.
It looks like DC is finally taking advantage of the one upper hand it has over the MCU — a pedigree of making high-caliber television shows. There were rumblings of this already, as the Colin Farrell-led Penguin series spinoff from The Batman was already garnering comparisons to HBO series The Sopranos.
Previously, franchise shows were just that — television versions of the movie franchises that made them famous. But there seems to be a sea change happening across the board. Andor proved that Star Wars can make an exceptional spy thriller series that just happens to be in the Star Wars universe, and The Last of Us proved video game adaptations can be great appointment television.
Now, with these ambitious comparisons, it's clear that the DC Universe is angling to make "HBO-quality" series the rule, not the exception. Granted, there will also be Booster Gold, which James Gunn describes as "if impostor syndrome was a superhero," which will still deliver of the campier elements of the DC Universe, but it looks like this is the first big Emmy Award play for the franchise.
HBO has always tried to label itself as the premium cable channel, the channel that brought Game of Thrones, The Sopranos, The Wire, and now The Last of Us to critical acclaim. What's to say this can't continue with superhero-flavored shows in the future? Superhero fans are going to watch what DC produces, that goes without saying. But if they namedrop these massively popular series — and, crucially, follow through on those comparisons — then they could attract a whole new audience who were turned off by the vastness of the DC world.