Star Wars is on the Verge of Bringing Back its Most Underrated Anti-Hero
The Mandalorian co-showrunner is set to conclude the "Mando-verse" in a future movie. Could he wrap up some other loose ends along the way?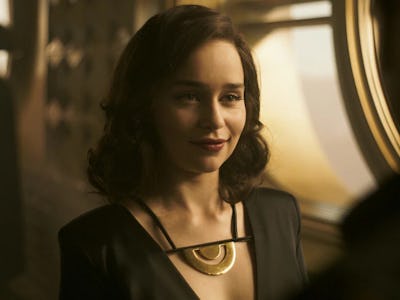 Lucasfilm
Dave Filoni is the savior of so many Star Wars characters. Whether it's his own creations like Ahsoka or Bo-Katan Kryze or classic characters like Boba Fett and Darth Maul, his ability to extend and delve into characters' motivations is unrivaled.
That ability will be on full display when he gets a crack at his own high-profile Star Wars movie, as announced at Star Wars Celebration. This movie will conclude the "Mando-verse" era of Star Wars TV, including in, The Book of Boba Fett, Ahsoka, and others.
But could this movie also include another abandoned character, one that's been long forgotten in the Star Wars universe but is flourishing in the comics? The more you look at the facts, the more likely it seems.
Qi'ra, the female lead of Solo and secret leader of the Crimson Dawn, may have not appeared in TV and movies since her debut, but she's had a prolific career in the comics. She's stolen Han Solo's carbonited form, participated in a war of bounty hunters, and recently starred in a series entitled Hidden Empire.
The series is now over, ending with Qi'ra defeated but still around. This makes her ripe for inclusion in Dave Filoni's upcoming film, which will be set in the New Republic and would be the perfect opportunity to collide Qi'ra and the Crimson Dawn with Din Djarin's adventures in space.
The Inverse Analysis — This would actually be a smart inclusion for Filoni — Qi'ra was previously revealed to be under the charge of Darth Maul, whom Filoni basically rehabilitated throughout The Clone Wars and Rebels. She's active in the comics, so she's still got a story to build on, even if it isn't required reading.
Most importantly, tackling Qi'ra would give Filoni a chance to do what he does best with Star Wars canon: build on something already existing to make a new, different, and, let's face it, better storyline than what she got in Solo.