Did Dave Filoni Direct Rogue One's Darth Vader Scene? An Investigation
Is one of the key moments from the prequel movie the work of the Mandalorian showrunner?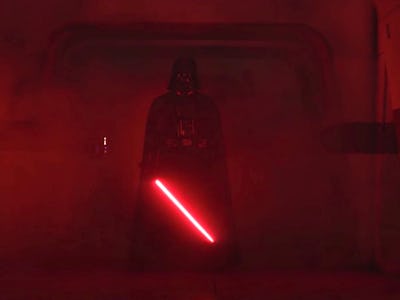 Lucasfilm
Star Wars factoids can come from anywhere. Sometimes, huge plot points can be spoiled by a book, a toy, or (infamously) a burger. Even actors from different works altogether can shed light on what happened behind the scenes. One prolific example is Freddie Prinze Jr., the former teen-idol-turned-Rebels-star, who brought Jedi Order 66 survivor Kanan Jarrus to life.
Though he has next to nothing to do with original trilogy prequel movie Rogue One, he may have revealed a massive bombshell about the movie's most memorable scene. But can the most trusted Jedi in Rebels be trusted in our world?
In conversation with the Lights, Action, Barstool podcast, Prinze mentions a tidbit from Rogue One that hasn't been reported anywhere else before:
"I don't know if people know this, maybe I'm not allowed to say this, but I don't care anymore. [Dave Filoni] directed that scene in Rogue One where – basically, the whole end of the movie, where Vader comes through, and you see basically what's gonna happen in A New Hope. He directed all that."
This is a surprise, because until now, it's been understood that this scene was actually directed by Andor showrunner Tony Gilroy, who was brought in for reshoots. Thankfully, Filoni himself inadvertently responded to this earlier this week in an interview with The Hollywood Reporter:
"I visited Gareth Edwards [on Rogue One] and I visited Rian on [The Last Jedi]. But Rian was the one who shoved me up front, sticking lenses in my hand and really getting me immersed in it."
So while Filoni can be placed at the Rogue One set, his first mentorship in live-action directing came from The Last Jedi director Rian Johnson, which prepared him for his live-action debut, directing "The Jedi," the episode of The Mandalorian introducing Filoni's brainchild, Ahsoka Tano.
This isn't the first time Freddie Prinze Jr. has shown an insight into the world of Star Wars. In 2019, he let off an expletive-filled rant about what it means to be a Star Wars fan, but also about the complex balance between light and dark, saying, "I know more about the Force than most people because Dave Filoni taught me and George Lucas taught him."
But while he may have insight into the abstract nature of the Force, who directed a specific scene is a more concrete matter. Maybe Dave Filoni gave some advice to Tony Gilroy, but it doesn't look like he actually directed the scene.
Given the choice between believing a voice actor from Rebels and the man who was actually there, it's probably best to go with the latter. Maybe Dave Filoni was just being humble, but the likelihood that a first-time director was handed the reins for one of the most iconic scenes in new Star Wars seems slim at best.