Final Darth Vader Scene in 'Rogue One' Was Added in Reshoots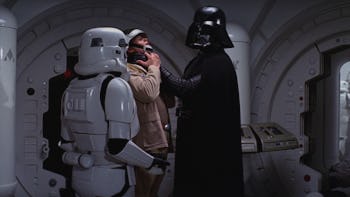 SquareSpace
So many Rebel soldiers could have avoided death by lightsaber. It turns out the now-infamous Rogue One reshoots resulted in Darth Vader's iconic final scene, solidifying him once again as the ultimate force not to be messed with in the Star Wars galaxy.
Editor John Gilroy told Yahoo that "the Vader action scene" was conceptualized quite a bit later and was a last-minute addition to the storyline. Originally, Vader was meant to be more of a threatening presence for the Rebels than any sort of physical manifestation of violence. But, alas, the scene was added, and several soldiers went down screaming, slashed by Darth's lightsaber, and thrown against the ceiling.
"It was a really great punch in the arm and something I think fans wanted to see," Gilroy — brother of Tony Gilroy, overseer of the reshoots — said.
Due to the timing of the reshoots, another actor had to be brought in to don Vader's iconic black armor. Daniel Naprous, a stunt actor who worked on the Harry Potter series, took Spencer Wilding's place behind the mask.
Gilroy confirms that fan service was an important factor in this last-minute addition, as the filmmakers wanted a chance to showcase Vader's incredible power, which often gets so lost in the original Star Wars trilogy.
No matter how much trouble the reshoots seemed to have caused so many Rogue One characters, the Vader addition is certainly a positive note for fans.