Cary Elwes is Ready for His Blockbuster Era
The Princess Bride actor reveals why he's evolving in the second act of his career.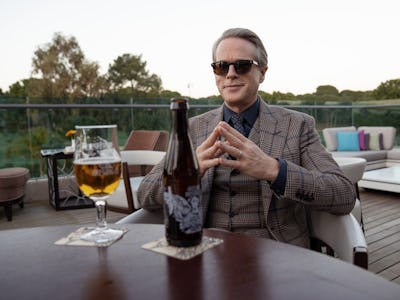 Lionsgate
Cary Elwes was once the only Robin Hood who spoke with an English accent. But now, he's keeping his lips tight.
The English actor best remembered for his roles in The Princess Bride and Robin Hood: Men in Tights is making the pivot to a bigger scale of filmmaking. He'll soon appear in blockbusters like Mission: Impossible — Dead Reckoning Part I and Zack Snyder's original sci-fi epic Rebel Moon for Netflix. He's now filming an action-oriented WWII picture, The Ministry of Ungentlemanly Warfare from director Guy Ritchie.
But Elwes is resistant to talk about those projects. Like a spy on the mission, his focus is on Operation Fortune: Ruse de Guerre, a new spy action comedy also from Guy Ritchie, hitting theaters on March 3. Also starring Jason Statham, Aubrey Plaza, Josh Hartnett, Bugzy Malone, and Hugh Grant, the movie follows a group of freelance intelligence officers who infiltrate the inner circle of a billionaire arms dealer.
Elwes stars as Nathan Jasmine, the organizational lead of the team, though good luck telling Jason Statham what to do. "He's a little bit of a control freak," Elwes describes of his character, "He's a guy who feels like he has to be the adult in the room at all times."
But that's not to say Elwes is a square. Elwes is dressed in the movie in a rainbow of enviable menswear that Elwes describes as like "a peacock."
"It was very funny that, as a spy, he's not shy about how he dresses," the actor says, "I thought that was an interesting take that guy had on the character. I haven't had this much fun working on a film in a long time."
While filmed in 2020 during lockdowns, you wouldn't know it, as the movie comes off like a throwback to the raucous, escapist action movies of yesteryear. Filming lavish party scenes in Turkey and Qatar only reminded Elwes what movies like Operation Fortune are good for. "People feel like they need to escape, literally," Elwes says, "That was the key to it. And there's no one better at escapism than Guy Ritchie. I hope to work with Guy again, I think the fun we had making it translates onto the screen."
Between filmmakers like Ritchie and Snyder, Elwes has leveled up late in his career. He tells Inverse he's compelled to green screen-type projects now simply because of the stories they offer. "I'm really drawn to the stories the filmmakers want to tell. But I'm also drawn to the filmmakers themselves," he says. On someone like Zack Snyder, Elwes praises: "I've been an admirer of his work for a long time. And I've always wanted to work with him. And so I was very happy to get to."
Elwes is looking forward: he's ready to go blockbuster, and is resistant to speak about beloved projects he was a part of, even recently. He does confirm he won't be in the final season of Stranger Things, however. (He played the mayor of Hawkins, Indiana in Season 3.)
"I've finished with that series," he says, "But I'm a big fan. I'm excited for them. And for the fans, for them to see the final season."
That's all Elwes wants to say. As he wishes.
Operation Fortune: Ruse de Guerre will open in theaters on March 3.