15 Canon-Breaking Easter Eggs in Black Mirror Season 6, Explained
The anthology series isn't afraid of connecting its stories — even if doing so doesn't make a lick of sense.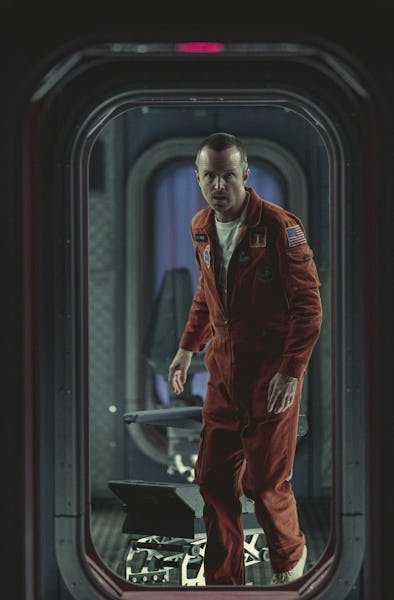 Black Mirror is an anthology, but it's never shied away from connecting its stories together. From Season 1 through Netflix's interactive Bandersnatch, each self-contained tale always seems to tie into a handful of others. There was even a whole episode, "Black Museum," chock full of "artifacts" from other episodes.
Season 6 is no different. In fact, this season might have more Easter Eggs than any other, including one that harkens all the way back to the very first episode.
Streamberry Is Full of Meaningful Shows
First, let's talk about the streaming service-shaped elephant in the room. Season 6 opens with "Joan is Awful," about a woman who finds a show all about herself on the massively popular streaming service Streamberry. This, of course, is a reference to Netflix itself. Even the opening "Tudum" noise is the same.
But before Joan finds her personalized series, she engages in the sacred ritual of flipping through options without landing on anything.
The titles include:
Loch Henry: Truth Will Out, a reference to the season's next episode
Finding Ritman, a documentary about Will Poulter's character from Black Mirror: Bandersnatch
The Callow Years, about Prime Minister Michael Callow from "The National Anthem"
Junipero Dreaming, a reference to "San Junipero"
An image featuring Ashley O from "Rachel, Jack, and Ashley Too"
A cartoon called Rowdy and Peanut, which references Cat Burglar, a Netflix interactive film by Black Mirror's Charlie Brooker
Eagle-eyed viewers can also see Hot Shot and Botherguts, both in-universe shows from "15 Million Merits." However, while the other shows could ostensibly be documentaries about the events of other episodes, those two suggest the dystopian events of "15 Million Merits" have already occurred, which doesn't really parse with Black Mirror's vague timeline.
That's going to be a recurring theme for these meta-media Easter Eggs, which leaves the viewer with the job of justifying them. Maybe "15 Million Merits" is actually called Hot Shot in this universe... or maybe it's just a fun reference without any logic behind it.
"Loch Henry" Also Piles on the References
In Season 6 Episode 2, we dive even deeper into Streamberry, exploring the production of one of the titles Joan and Krish flip through. We see the whole trailer for the series, and if you're good with your pause button you can see a lot of Easter Eggs.
The trailer — which is from "the award-winning producers of The Callow Years" — uses many news clips to act as a de facto epilogue, filling in what happens after the truth of the case is revealed. In a shot of news channels reporting on the case, tickers at the bottom display several headlines:
"Michael Smart unveils Met Police robot dog" — a reference to the politician from the later episode "Demon 79," and the terrifying robots from "Metalhead"
"US tourist found dead at SaitoGemu HQ" — a reference to the events of "Playtest"
"'Toon Politician' Waldo romps to victory in Italy" — a reference to "The Waldo Moment"
"Hot Shot auditions open in Sydney" — another reference to the talent competition from "15 Million Merits"
A shot of tabloids contains one last reference: a headline alongside "MANIAC MUM" reads "Whatever happened to Michael Callow? Now he runs a ZOO!" That's quite the development considering how in "Nosedive" he was seen posting, "Just got thrown out of the zoo again."
Another slew of references comes when we see the BAFTA ceremony. Richard Ayoade introduces Scottish TV host Kirsty Wark, who reads off the nominees for best factual series. One is called Suffer the Children: The Tipley Pedophile Ring, a reference to "Demon 79," and another series is called Euthanasia: Inside Project Junipero. Perhaps that's another streaming service's documentary made to compete with Streamberry's Junipero Dreaming, both of which reference Season 3's "San Junipero," about a simulated reality town.
Sea of Tranquility Makes More Appearances
In "Joan is Awful," Krish suggests they watch Sea of Tranquility, which should ring bells for die-hard fans. All the way back in Episode 1, "The National Anthem," the Callow administration contacts a special effects expert to fake the humiliating bestial ransom the Prime Minister must perform. He's described as working on an "HBO moon Western thing" that he clarifies is called Sea of Tranquility.
Later, we see a crew of Sea of Tranquility fans in "Nosedive," where it seems like the show is some kind of sci-fi anime. After the crew abandons her, Lacie says she hopes the show gets canceled. And it looks like it did, as #SeaOfTranquilityReboot is seen trending in "Smithereens."
Joan dismisses Krish's suggestion, saying that Eric said it was lousy. It definitely looks like a live-action sci-fi show, and one of the actors in the in-universe show is mentioned in "Mazey Day," so it seems like the series did, in fact, get rebooted.
But how does Episode 3, "Beyond the Sea," relate to this show? They're both live-action sci-fi epics. Maybe "Beyond the Sea" is a feature-length spinoff of Sea of Tranquility, one that tells a more grounded and self-contained prequel story. Or maybe Black Mirror just likes nautical sci-fi.
That Darn Symbol Strikes Again
Black Mirror has several calling cards. The most recognizable is probably the song "Anyone Who Knows What Love Is (Will Understand)," which appears in many episodes, including Season 6's "Joan Is Awful." Another recurring motif is the forked symbol that first appeared in "White Bear," then later in Black Mirror: Bandersnatch.
The symbol pops up again in the final episode of Season 6, "Demon 79," with an even more sinister meaning than usual. It first appears on the talisman Nida finds in her workplace basement, which ushers in a demonic assignment.
Later, she asks the demon Gaap what will become of Conservative politician Michael Smart and is shown a horrifying glimpse of a future where the symbol starts as his campaign logo, then becomes the emblem of the "Brittainia Party," and is then transformed into the symbol of a fascist government. Seeing that little Tetris reject is never a good sign, but it's yet another example of how all of Black Mirror's worlds connect, even if the logic is never seamless.
Black Mirror Season 6 is streaming on Netflix.