Beacon 23 Could Be the Sci-Fi Sleeper Hit of 2023
Lena Headey brings gravitas to a Silo-esque underdog.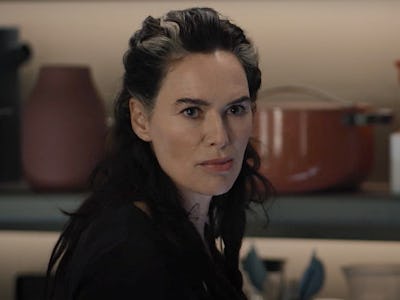 MGM+
Science fiction is one of the few genres that can really support a sleeper hit. No matter how low-budget, how strange the direction, or how poorly it aged, if there's a strong idea, any sci-fi story can stand the test of time — just look at the 60-year run of shows like Doctor Who. Because of that, it's no wonder streaming services just starting out often look toward sci-fi to build off of: Netflix has Stranger Things, Disney+ has The Mandalorian, and Apple TV+ especially found success with For All Mankind, Severance, and, recently, Silo.
Now, MGM+ (formerly known as Epix) is looking to make its own flagship sci-fi show to replicate Silo's success — and comes incredibly close.
The Silo comparison isn't unearned: Beacon 23 is based on a short story collection by Hugh Howey, who wrote the source material for Silo. The series follows a space lighthouse (Howey really has a thing for cylindrical buildings) and the various keepers who have lived there over the years. The first episode focuses on government agent Aster (Lena Headey) and Halan (Stephan James), and their storyline weaves in and out of those who came before, building to a huge secret that's just as fascinating as it is a classic sci-fi trope.
Because of the short-story source material, Beacon 23 is able to use a non-linear, episodic structure that almost echoes single-set anthology shows like Room 104. Showrunner Zak Penn, best known for writing early drafts of a bunch of MCU movies including The Avengers, uses the structure of the show to his advantage: with every episode centered in the eponymous Beacon, the relatively low budget is expertly hidden.
In the experienced hands of guest stars like Barbara Hershey and Stephen Root, the flashback episodes focusing on the Beacon's past become the bread-and-butter of the show. When you're in remote space, every episode is a bottle episode.
Thankfully, the story is perfectly attuned to what this show is trying to be. There are episodes that play as action thrillers, episodes that are more akin to tense dramas, and episodes that even devote themselves to love stories — each given their own styles and tones. Aster and Halan's tenuous dynamic is explained and deepened throughout the stories of the past, and it all leads to a final note that takes a big swing — and possibly sets up a Season 2.
It sounds like the perfect recipe for a sleeper sci-fi hit, but will it get the flowers it deserves? Its biggest obstacle to success is merely its availability: MGM+ isn't exactly on everyone's streaming service roster. Considering the risky weekly release of its eight episodes (with a two-episode premiere), the release is actively going against what could have been the best binge of the year.
But if you're willing to be patient and pick up a new streaming service, Beacon 23 will reward you with the perfect companion to even the most prestige sci-fi television. It's TV how it's supposed to be: ambitious, innovative, and creative with a shoestring budget.
Beacon 23 premieres November 12, 2023 on MGM+.