The Real-Life Scandal Behind Barbie's Two Strangest Characters
There's only one Allan, and don't ask his wife about their child.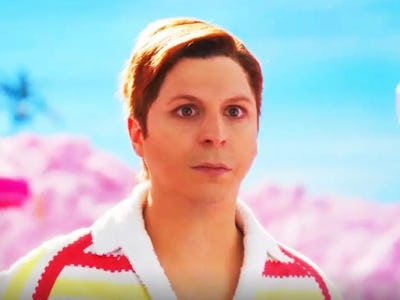 Warner Bros. Pictures
The internet was recently entranced by the release of the Barbie trailer, as its fun, frothy, colorful delights were an excellent antidote for a time when even Disney live-action musicals are being criticized for being "too dark." But in addition to the trailer, character posters detailed the movie's all-star cast, including multiple Barbies and Kens, with Margot Robbie and Ryan Gosling as the "main" dolls. But there were two Barbie characters who didn't fit the mold, and they have interesting histories.
First, there's Allan, played by Michael Cera. He looks ready for a day on the beach in his rainbow-striped top, and he's based on a real doll. Allan, named after Mattel co-founder Ruth Handler's son-in-law, was introduced in 1964 as "Ken's Buddy Allan," whose big selling point was that "all of Ken's clothes fit him."
He was discontinued in 1966 and rarely re-appeared in the great Barbie canon, although he was briefly reintroduced in 1991, when he married his girlfriend, Midge. Midge also features in the Barbie movie, and she has a much longer and darker history.
Midge debuted in 1963 as a milder alternative to Barbie, with freckles, less makeup, and a more girl-next-door look. There had been concerns that Barbie was too adult, so Midge was an easy backup. Barbie and Ken were often displayed on double dates with Midge and Allan, but after Allan was discontinued, Midge's appearances were few and far between. However, she made a splash in the new millennium.
In 2002, Mattel released the Happy Family line of dolls, featuring Allan, Midge, and their two kids, three-year-old Ryan and newborn Nikki. Midge was actually sold pregnant with Nikki, with the tiny baby curled up inside a removable belly.
Mattel wanted the doll to be "a wonderful prop for parents to use with their children to role-play family situations — especially in families anticipating the arrival of a new sibling," but when pregnant Midge hit the market, the concept didn't go over well. "It's a bad idea. It promotes teenage pregnancy. What would an 8-year-old or 12-year-old get out of that doll baby?" said one mom quoted by USA Today on Christmas Eve 2002.
Walmart quickly pulled the doll, and Midge had to be repackaged without the pregnant belly after presumably visiting a nice Mattel medical center. It's a dark moment in Barbie's history, so it's interesting that Greta Gerwig would choose to highlight this version of Midge', even going as far as to replicate the doll's purple floral maternity dress. Barbie may look like a rollicking good time, but there's pain behind those plastic smiles.
Barbie hits theaters July 21, 2023.