Avengers: Secret Wars Could Give Marvel the One Thing It Desperately Needs
It's time to hit the reset button.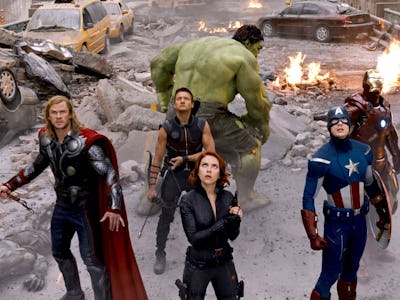 Marvel Studios
Both hardcore fans and casual viewers seem to agree that the Marvel Cinematic Universe is not in a good place right now. In the years since it reached its creative apex with Avengers: Endgame, the franchise has struggled to justify its continued existence and repeatedly failed to offer fresh thrills. Movies like Ant-Man and the Wasp: Quantumania and Eternals have come and gone with little fanfare, while Disney+ originals like Secret Invasion and Moon Knight have collectively signaled a disappointing dip in quality and narrative focus.
The MCU only seems to grow more and more unwieldy with each passing year. For all these reasons and more, it may not come as a surprise to learn that Marvel is rumored to be considering a full-fledged franchise reset.
MCU: The Reign of Marvel Studios co-author Joanna Robinson revealed during a recent appearance on The Watch that she believes Kevin Feige and his Marvel team are toying with the idea of using Avengers: Secret Wars, which isn't set to hit theaters until 2027, to soft reboot the MCU. While discussing the possibility that Marvel might abandon the current MCU timeline and just start over, Robinson said, "I think that's exactly what Secret Wars is."
"We have a quote from Kevin Feige [in the book] sort of implying as much, that Secret Wars will serve as a soft reboot in which they can — to use a Loki-ism — prune everything that's not working and just keep what is, or bring back people you thought were gone forever," Robinson said.
Regardless of whether Marvel will, as Robinson suggests, find a way to bring back Chris Evans' Captain America or Robert Downey Jr.'s Iron Man in Secret Wars, the film's potential purpose as an MCU reboot is interesting. It could essentially do for the MCU what The Flash did for the DCEU earlier this year, but on a much, much larger scale, given just how much longer the MCU has existed.
It would make sense for Secret Wars to open the door to an entirely new MCU. The film is expected to end Marvel's Multiverse Saga, which has already introduced an endless number of alternate realities and variants to the MCU. It's therefore been suspected that Secret Wars will not only feature appearances from past (and even canonically deceased) MCU heroes, but also press the reset button on the entire franchise. But would doing so actually solve all of Marvel's problems? And is 2027 soon enough for the shakeup Marvel clearly needs?
The interconnectedness of the MCU once made it compelling and distinct from every other mainstream media franchise, but in recent years it's begun to feel like a burden on the series' newest entries. Titles like Hawkeye and Black Panther: Wakanda Forever have been dragged down by their superfluous connections to forthcoming MCU efforts, while Doctor Strange in the Multiverse of Madness and She-Hulk: Attorney at Law have felt unnecessarily constricted by the MCU's all-encompassing canon.
It's begun to feel like Marvel's once-inventive, years-long approach is now holding it back from diving headfirst into promising superhero projects like Blade, Fantastic Four, and The X-Men. That, in turn, suggests the problem currently plaguing the studio isn't necessarily superhero fatigue, but cinematic universe fatigue. Audiences just seem to have lost interest in the style of storytelling that Marvel used to climb to the top of Hollywood.
The studio may not want to think about merely rebooting the MCU, but completely reworking its once-prized franchise. It may not want to wait until 2027 to do it, either.
Avengers: Secret Wars is set to hit theaters on May 7, 2027.