The Biggest Sci-Fi Movie of 2022 Just Got A Huge Upgrade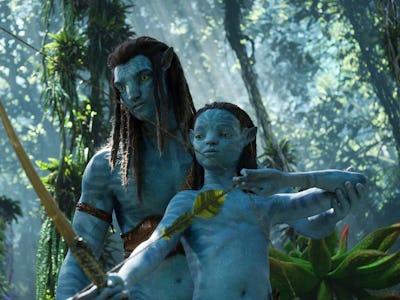 20th Century Studios
James Cameron has always insisted his films look the best they possibly can, from building huge sets to pioneering visual effect innovations. Naturally, both Cameron and his fans want his work to be viewable at home in the highest quality possible too, and now it's finally possible to watch the majority of his work in 4K, including an upgraded version of his most recent and technically advanced movies.
Lightstorm Entertainment, Cameron's personal production company, has announced that six of Cameron's films will be available in 4K via digital purchase and UHD Blu-Ray disc. The December 5 release of Titanic in 4K had already been announced, but that classic will now be joined by Aliens, The Abyss, True Lies, Avatar, and Avatar: The Way of Water.
All six films will be available for purchase digitally on December 12, and on December 19 the Avatar films will get a Collector's Edition physical release, which includes 3 Blu-Ray discs and a Best Buy-exclusive steelbook for the original Avatar. Then, on March 12, 2024, physical 4K editions of Aliens, The Abyss, and True Lies will be available for purchase.
All six titles will come jam-packed with bonus features. Most notably, Avatar: The Way of Water will contain eight hours of extras, including a deep dive into the 3D effects, a look into the sign language developed for the film, and 11 deleted scenes. So even if you've already picked up the Way of Water 4K release, you may want to spring for the upgrade if you're a really hardcore Pandora-head.
A year after Way of Water's theatrical release, now's the perfect time to revisit the highest-grossing movie of 2022. Whether you're a physical media collector, a Cameron superfan, or simply someone who wants to replicate the experience of seeing Way of Water in a theater from the comfort of your couch, this is an exciting release. High-quality physical media is enjoying a resurgence after some lean years, and James Cameron has the clout to ensure his movies are treated with particular care.
Avatar and Avatar: The Way of Water Collector's Editions will be available to purchase December 12 digitally, and December 19 physically.