Aquaman and the Lost Kingdom's Dark Trident Repeats an Exhausting Superhero Cliche
Aquaman is back, but his arch-nemesis looks familiar...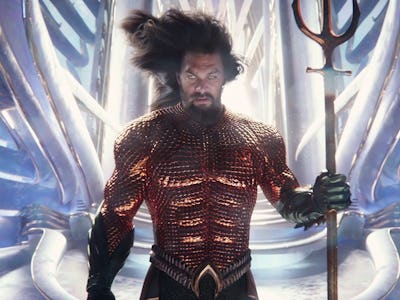 Warner Bros.
After a long, long wait, we finally have a full-length trailer for Aquaman and the Lost Kingdom, the sequel to James Wan's 2018 billion-dollar blockbuster, Aquaman. But the Arthur Curry we see in this trailer is completely different than the drunken bro we met five years ago; he's now a husband, a father, and the King of Atlantis. That's all well and good, but the big reveal of the villain — and the weapon he wields — is the latest example of a tired superhero movie trend.
Still, there's a lot to get excited about in the trailer, from a glimpse of Aquaman and Mera's young child, to the return of the fun dynamic between Aquaman and his half-brother Orm, and, of course, the threat of Black Manta.
In the trailer, we see Manta wield a strange new Black Trident, the antithesis of Aquaman's Trident of Atlan. It's an odd weapon choice with no comic book precedent and, as a brand-new creation, the trident is a bit underwhelming. It's essentially the latest in a trope that's infested superhero media for years: the mirror match, where a hero and a villain exhibit almost identical powers, but use them for different purposes.
The ur-mirror match in recent superhero movie history is the classic fight between two versions of Captain America in Avengers: Endgame. It was a fun, gripping scene, but we've seen it repeatedly since then. Vision faced off against White Vision in WandaVision, the gimmick of Taskmaster in Black Widow was mirroring the Avengers' techniques, Secret Invasion ended with two Skrulls who'd borrowed the abilities of other heroes squaring off... it's getting stale.
At least there are hints that there's more to Manta's trident than meets the eye. It looks distinct, and knowing his character's techie background, it's possible the Black Trident is simply his latest invention, one perfectly tailored to defeat Aquaman in battle. The mirror match may be a tired trope, but let's hope Aquaman and the Lost Kingdom can breathe some fresh seawater into it.
Aquaman and the Lost Kingdom premieres in theaters December 20, 2023.