Anthony Carrigan Has Moved On From His Iconic Batman Villain
"Never say never, but there's a whole other cast of characters I could really sink my teeth into."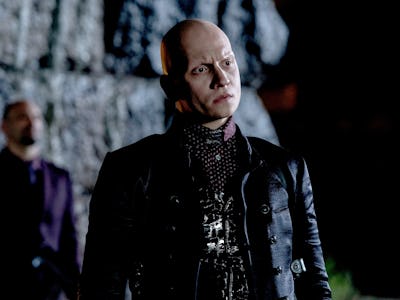 FOX/Getty Images
Anthony Carrigan is best known to the world as NoHo Hank. But before he played the murderous bald criminal on the HBO show Barry, Carrigan made a name for himself as another murderous bald criminal on the Batman prequel series Gotham as the maniacally evil Victor Zsasz.
Introduced to the comics in Batman: Shadow of the Bat #1 (1992), Zsasz is a psychotic serial killer who thinks his goal in life is to free the citizens of Gotham from their pointless lives, carving a tally into his skin every time he kills. Zsasz plays a major role in the Arkham video games and was played by Chris Messina in Harley Quinn: Birds of Prey. But he's never gotten a movie of his own — and no one's captured the role quite like Carrigan.
"The expectation is to play this completely maniacal, crazy, unhinged person, and that's okay for a minute, but after that it kind of gets old," Carrigan tells Inverse, noting that he read the comics and played the games to prepare for the role. "I wanted to do something unique and interesting. Make him funny. Make him spontaneous. I had a blast working on it."
In a recent interview with Inverse tied to the final season of Barry, Carrigan reflected on his time as a DC villain and whether he'd want to return to that universe as either Zsasz or someone else entirely. Check out our conversation below.
This interview has been edited for brevity and clarity.
How did you first get the part of Victor Zsasz in Gotham?
I remember when the show was first casting, I sent a tape in for a much smaller character from episode one. I didn't know who it was, but my wheels were turning about who this might be. And then it ended up being a nobody character.
But the casting directors saw my tape and loved it. So they were saving something for me further down the line. When I got the call that they wanted me to play this character, I was like, Oh, this makes total sense. I couldn't have dreamt this up [if] I tried.
Victor was an amazing villain, but in the end, he just sort of disappeared. Were there ever any plans to give him a bigger sendoff?
Honestly, I was just grateful to have been brought back in as much as I did. I'm not sure what the discussion was in terms of my character's fate. I think I mentioned a few times like, "Let's kill him! Let's kill him in a really gnarly way." But at the end of the day, you're really at the whim of the creatives and you just do your best with what you're given.
The DC Universe is about to get a big reboot under James Gunn. Would you be interested in returning to the role?
I don't know. I'm never necessarily like over it. But I felt really happy with the work that I got to do, with that character. So, you know, never say never, but there's a whole other cast of characters I could really sink my teeth into.
Anyone in particular? I know you've expressed interest in Lex Luthor before.
Lex Luther, I would have a field day playing that character. But it's also about surprising everyone and surprising myself too. So whatever packaging that comes in think it's gonna be interesting.