The Next Big Star Wars Show Could End on a Wild Cliffhanger
Will Mando finally have to share the spotlight?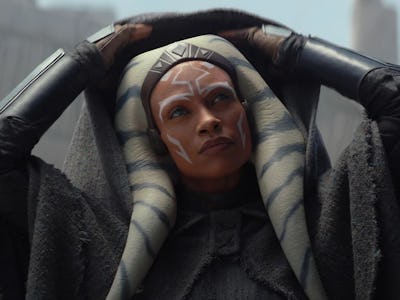 Lucasfilm
The Star Wars TV universe is a sprawl, but at its heart is The Mandalorian. As that tentpole series matured, it became a fountainhead for spinoffs. First came The Book of Boba Fett, which followed Boba as he tried to establish himself on Tatooine, but briefly took a detour to catch up with Mando.
In just a few months, we'll see the next spinoff: Ahsoka, following Clone Wars hero and Dave Filoni brainchild Ahsoka Tano as she sets out to find her missing ally Ezra Bridger and defend the galaxy from the evil Thrawn. But her adventures may not be limited to just that mission. In conversation with Empire Magazine, Ahsoka star Rosario Dawson spoke about her efforts to make a possible Ahsoka Season 2 happen.
"I'm absolutely putting it out into the universe," Dawson said. "We're joking about it, but I'm manifesting it because I feel like I helped Dave [Filoni] manifest this role. So I'm ready. I'm excited. I'm willing. I got my ice-packs ready to go for Season 2 and beyond! I would not be mad at that."
If Ahsoka does get a Season 2, it will be the first Mandalorian spinoff to be renewed for a second season. In fact, it would be the first Star Wars live-action series other than The Mandalorian to achieve a renewal at all, since Andor was slated from the start to have a two-season timeline.
Maybe Dawson is just spitballing here, but this doesn't feel like something she'd say if her show ended with every plot point wrapped up in a neat little bow. You can't have a second season without more adventures to go on, and Dawson's comments hint at more stories to tell.
Ever since Disney+ launched in 2019, it seemed like the Star Wars live-action universe was supposed to consist of The Mandalorian, and then a lot of extraneous one-offs like The Book of Boba Fett and Obi-Wan Kenobi. But if Ahsoka manages to clinch a Season 2 renewal, it would be a good omen for upcoming Star Wars series like The Acolyte and Skeleton Crew. Not every Star Wars show needs a second season, but we shouldn't be cutting shows short if there's more to do with them either.
A second season could position Ahsoka to be not just a spinoff of The Mandalorian, but a successor. Mando can't run around on galactic adventures forever now that he has a child to raise, and some show will have to take his series' spot as the tentpole of Star Wars TV sooner or later. Maybe it will just come down to the fan reaction to Ahsoka... and, apparently, Rosario Dawson's manifestation skills.
Ahsoka premieres August 23, 2023 on Disney+.