Star Wars will finally bring back a creature connected to a key Rebels location
Dave Filoni's favorite motif will appear again.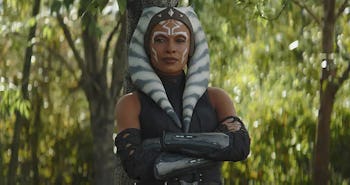 Dave Filoni is the mastermind behind Ahsoka Tano. As the creator of The Clone Wars he introduced countless characters, but Ahsoka has always been the poster child of the "Filoni-verse." When Filoni joined Jon Favreau in showrunning The Mandalorian, it was only a matter of time before Ahsoka appeared, and in Season 2 we finally saw Rosario Dawson bring the character to live-action.
Now Ahsoka is getting her own show, and a new report claims that a key motif from Rebels — and a classic Filoni trope — will return.
According to prolific Star Wars leaker MakingStarWars, Ahsoka will feature Loth-wolves. A canine species native to the planet Lothal, Loth-wolves appeared in Rebels and are apparently in touch with the Force. Several Loth-wolves aided Ezra Bridger in his journey after losing his mentor, Kanan.
Dave Filoni has always been fascinated with wolves: he also created clone Commander Wolffe, and then he played a character named Trapper Wolf. But there's a bigger influence at play here.
Star Wars has never been shy about borrowing ideas from Eastern media; even Darth Vader's helmet was inspired by samurai armor. That influence is still visible today, especially after Star Wars: Visions let anime studios explore the Star Wars universe. Filoni has often spoken about anime's influence on his work, including Ahsoka.
Filoni told the crowds at Star Wars Celebration Europe in 2016 that Studio Ghibli movie Princess Mononoke provided a major inspiration for Ahsoka, and a potential explanation for her surviving Order 66 was that a group of wolves saved her. It didn't make the final draft, but the Loth-wolves were born from the idea. Considering Ahsoka's episode of The Mandalorian was heavily inspired by Mononoke and Kurosawa films, it makes sense the influence would carry over.
The inclusion of Loth-wolves in Ahsoka means more than just another nod to anime. Their appearance in Rebels was intrinsically tied to the World Between Worlds, the plane apart from space and time where Ezra Bridger managed to save Ahsoka's life. The World Between Worlds has long been rumored to appear in Ahsoka, and Loth-wolves showing up only adds more evidence to the theory.
Loth-wolves are a symbol of what makes the Filoni-verse great: Dave Filoni's personal fascinations, anime influences, and surreal metaphysical realms, all in one handy motif. Regardless of what they'll mean next, it's an omen that Ahsoka will feel just like every other Filoni show.
Ahsoka premieres on Disney+ in 2023.