Ahsoka Episode 8 Release Date, Time, Trailer, and Plot for the Star Wars Show
Who's going to make it home?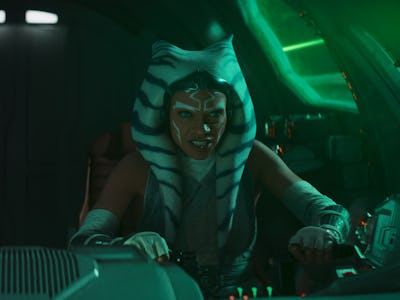 Lucasfilm
It's finally here. Ahsoka is coming to a close, but its hero has a lot to do before the credits roll on Episode 8. Ahsoka Tano is reunited with Ezra and facing down Thrawn, and together they need to defeat him — or at least thwart him — and find their way out of the Peridea galaxy and back to the Republic they helped build.
Here's everything you need to know about the Season 1 finale that's set to wrap everything up... or at least tease future Ahsoka-focused projects.
When Is the Ahsoka Episode 8 Release Date?
Unlike the rest of the Disney+ lineup, Ahsoka isn't released in the early hours of Wednesday morning. Instead, new episodes drop during Tuesday primetime, meaning Episode 8 premieres on Tuesday, October 3. It won't be the only primetime release of the week; Loki Season 2 premieres shortly after, on October 5.
When Is the Ahsoka Episode 8 Release Time?
Like every other episode of Ahsoka, Episode 8 eschews the usual Disney+ release structure of an overnight midnight PST/3:00 am EST release, and instead unlocks at 6:00 pm PST/9:00 pm EST. Considering the same release schedule will be used for Loki Season 2, it looks like this may become a new normal for Disney+, or at least for Star Wars and Marvel.
Is There a Trailer for Ahsoka Episode 8?
Ahsoka isn't doing individual episode trailers, so there's no way to catch a glimpse at what's ahead, but there's still one moment from the original trailer that's yet to feature in the series: Thrawn on the bridge of the Eye of Sion. We'll likely see this scene in Episode 8.
What Will Happen in Ahsoka Episode 8?
Ahsoka Episode 8 has a lot on its agenda: we still don't know what Baylan is up to, how (or even if) Ahsoka will stop Thrawn, and how many of these characters will get back to the galaxy we all know and love. Maybe Episode 8 will answer all these questions, or maybe some plot points will be left for a future Star Wars project to address.
How Many Episodes Does Ahsoka Have Left?
Episode 8 is the finale of Ahsoka, and the series hasn't been renewed for a second season. But Lucasfilm is planning to conclude the Mandoverse with a movie — and Thrawn would be the perfect villain.
Ahsoka Episode 8 premieres October 3 at 6 pm PST/9 pm EST on Disney+.