Ahsoka Episode 7 Wastes The Show's Most Interesting Relationship
Baylan Skoll and Shin Hati have parted ways for… reasons.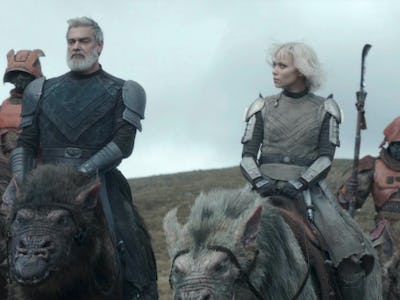 Lucasfilm
While it's had no trouble finding space for its various Star Wars cameos and Easter eggs, Ahsoka has struggled to establish and explore the inner emotions of its characters. Its overarching plot involving the return of Grand Admiral Thrawn (Lars Mikkelsen) and Ezra Bridger (Eman Esfandi) has, at times, felt totally disconnected from the personal journeys of its heroes. In other instances, it's felt like said heroes — namely, Ahsoka Tano (Rosario Dawson) — have had no discernible development or interiority at all.
This problem comes back to haunt Ahsoka in its penultimate episode, titled "Dreams and Madness." The installment features not only the long-awaited reunion of Ahsoka, Ezra, and Sabine Wren (Natasha Liu Bordizzo) but also the sudden, jarring dissolution of the master-apprentice relationship between Baylan Skoll (Ray Stevenson) and Shin Hati (Ivanna Sakhno). The latter development is particularly frustrating because it represents the moment when Ahsoka totally and completely abandons one of its most compelling storylines.
Try as it might, Ahsoka has had a hard time convincing viewers of the complexity of its eponymous hero's fraught relationship with her quasi-student, Sabine. Part of that is because Dawson and Bordizzo's performances have been too muted for any tangible emotions to really emerge between them, and part of it is due to Ahsoka creator Dave Filoni's inability to explore their backstory and feelings toward each other. Their relationship has, for the most part, been defined by weightless platitudes and several colossal mistakes on Sabine's part.
Where Sabine and Ahsoka's relationship has failed to hook viewers, however, Baylan and Shin's has succeeded. Ever since their screen debut, the False Jedi have emerged as two of the most quietly charismatic and intriguing live-action Force Users that the Star Wars franchise has introduced in quite a while. For its first six episodes, Ahsoka even did a surprisingly great job of simply letting Stevenson and Sakhno coexist and lift each other up on screen. The actors, meanwhile, added unspoken layers of complexity to their characters' relationship and, in doing so, made Star Wars fans hungry to learn more about both of them.
What Ahsoka Episodes 1-6 never quite do, though, is suggest that Shin and Baylan are destined to go down different paths. Her minor interest in the Nightsisters' witchy magic aside, Shin has followed every one of Baylan's orders to a tee and expressed unyielding faith in her teacher's wisdom. That's why it's so confusing when Baylan tells Shin to give into her own ambition, leave him, and secure her place in Thrawn's Galactic Empire. Ahsoka has definitely established Shin's ruthlessness, but it'd be a stretch to say that it's successfully characterized her as an ambitious Imperial zealot eager to be one of Grand Admiral Thrawn's top mercenaries.
Baylan and Shin's final scene together in Ahsoka Episode 7, unfortunately, marks a moment when the words of the show don't line up with what viewers have actually seen and learned throughout it. Their split isn't the first time that Ahsoka has failed to synchronize its plot and ideas, either. (The anti-climactic spiritual journey taken by Ahsoka and the ghost of her former master, Anakin Skywalker, suffers from a similar narrative disconnect.)
It is, however, disappointing to see Baylan and Shin's relationship end on such a lackluster note. Beyond just how consistently compelling the two characters have been up to this point, their bond gave Ahsoka the chance to show Star Wars fans a long-lasting, non-Jedi master-and-apprentice relationship for the first time in the franchise's history. Instead, it's split them for reasons that remain unclear right now but nonetheless feel frustratingly plot-driven.
Unless Baylan changes his mind and seeks Shin out in the Ahsoka finale next week, the show's failure to fully explore their relationship will likely go down as one of its biggest missed opportunities.
The Ahsoka finale premieres Tuesday, October 3 on Disney+.