Ahsoka Theory Reveals How Episode 5 Will Completely Rewrite the Main Character
A disturbance could be put to rest.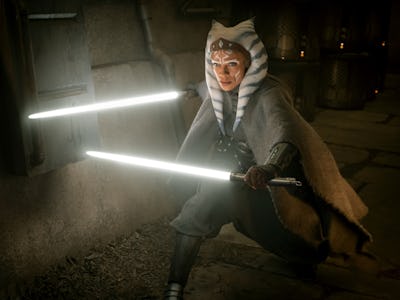 Lucasfilm
Ever since Ahsoka Tano made her live-action debut, fans have complained that Rosario Dawson's take on the character didn't quite feel like the spunkier Ahsoka they remembered from The Clone Wars and Rebels. Maybe it's her performance, maybe it's how the costume translated from animation into live-action, but something about her just felt... off.
These complaints only intensified once she began interacting with her old friends from Rebels, who felt like they had come out of a different, more light-hearted show. However, there might actually be a genius explanation for this complaint, and if so, it will be spelled out in Ahsoka Episode 5.
Redditor So-_-It-_-Goes suggests Episode 5, the much-anticipated episode featuring the reunion of Anakin and Ahsoka, will explain why Ahsoka seems so different now. She's carrying an immense amount of guilt after the events of the prequels destroyed the Jedi Order, and her guilt has only grown worse over time.
This is hinted at from the very first episode, when Ahsoka tells Hera, "Sometimes, even the right reasons have the wrong consequences." The line references her decision to leave her master and the Jedi Order as a whole having a horrible unintended consequence: Anakin's fall to the Dark Side. Baylan later pokes at this wound, saying, "Few would live to see what he became. Surely that must leave a mark. Is that why you walked away? Abandoned him?"
Now that Anakin and Ahsoka are reunited, Episode 5 could dive head-first into the trauma that's clearly haunted Ahsoka and crept into her present-day relationship with Sabine. Ahsoka has survivor's guilt; she feels like she could have done something to save Anakin and the countless Jedi who were murdered in Order 66, but in reality, that probably wasn't the case. Anakin made his own choices.
Whether it's through exploring an alternate timeline like a galactic It's a Wonderful Life, or simply through conversation, Ahsoka has an opportunity to do what sci-fi franchises rarely do; address the mental toll protecting a universe takes on its characters. Ahsoka is one of the most prolific Star Wars characters, and her many stressful adventures have to lead to a reckoning. Hopefully, with a little help from Anakin and the Force, she can find catharsis and closure, and become the Master that Sabine needs.
Ahsoka is streaming on Disney+.