Ahsoka Episode 4 Release Date, Time, Trailer, and Plot
The Disney+ series' unusual release schedule means Episode 4 will arrive sooner than you think.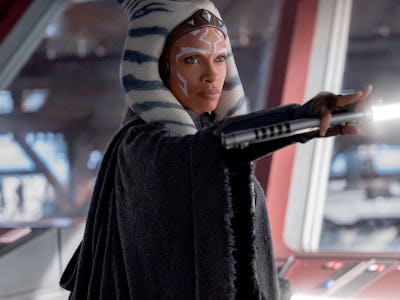 Lucasfilm
It may have just started, but Ahsoka is almost halfway over. While the first three episodes set up the treacherous mission Ahsoka and Sabine have ahead of them, we're now firmly in the second act of the series, and the action will definitely heat up as they get into the meat of their quest.
Here's when Episode 4 will hit Disney+, what you can expect to happen in it, and everything else you need to know.
When Does Ahsoka Episode 4 Release?
Even though Disney+ has made a tradition of releasing episodes in the wee hours of Wednesday morning, Ahsoka is an exception, releasing on Tuesday evening primetime. It's not much of a difference, but it changes the viewing experience of the series entirely. Ahsoka Episode 3 releases Tuesday, September 5.
What Time Will Ahsoka Episode 4 Release?
The new primetime release schedule is ideal for those watching in North America, where Ahsoka Episode 3 will premiere at 6 p.m. PST, which is 9 p.m. EST. That's the perfect time to settle down with a show after work, but before you're ready for bed.
Is There a Trailer for Ahsoka Episode 4?
Ahsoka isn't doing individual episode trailers, but there's a sneak peek of Episode 4 available where Sabine and Ahsoka venture out of their ship, only to face Baylan Skoll's cronies. Of course, they make light work of them, even if Huyang takes a licking.
What Will Happen in Ahsoka Episode 4?
Ahsoka Episode 3 saw our heroes land in the dark forests of Seatos while Baylan Skoll unleashed his henchmen to hunt them down. Meanwhile, the Eye of Sion is gearing up to reach another galaxy and bring back Grand Admiral Thrawn — and possibly Ezra Bridger. Hopefully we'll see that hyperdrive ring become fully operational in Episode 4.
How Many Episodes Will Ahsoka Have?
Ahsoka will have eight episodes, meaning we'll officially be halfway through the series after Episode 4 releases.
Ahsoka Episode 4 premieres September 5 at 6 p.m. PST / 9 p.m. EST on Disney+.